Newsom and Texas sheriff 'compare notes' on possible DeSantis prosecution
LOS ANGELES - California Governor Gavin Newsom met with Sheriff Javier Salazar of Bexar County, Texas, to "compare notes" on possible criminal charges against Florida Governor Ron DeSantis.
Newsom made that revelation during an exclusive interview with Elex Michaelson for FOX 11 Los Angeles' political show "The Issue Is:"
"I met with him to compare notes yesterday because it is exactly the playbook that DeSantis and his staff to send migrants to California," Newsom said.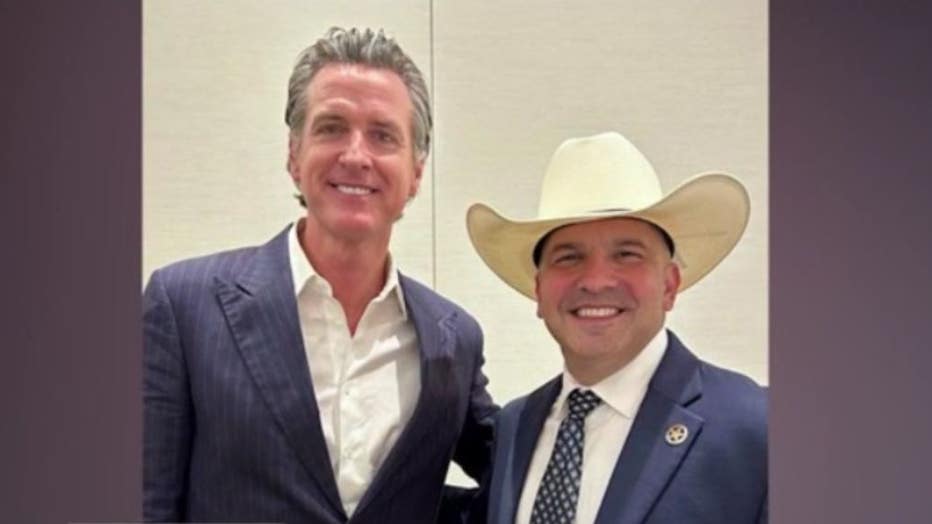 Gov. Gavin Newsom and Sheriff Javier Salazar
In September of last year, 49 migrants traveled from Texas to Martha's Vineyard thanks to funding from DeSantis.
In June of this year, three dozen migrants flew to Sacramento-area airports with DeSantis' support.
Newsom said that Salazar was "disgusted [with] what Ron DeSantis did, coming into his jurisdiction under false pretense and deceiving kids, not just kids, adults, and sending them on an airplane to Martha's Vineyard."
Newsom continued: "I find it not only disgraceful, I think there's grounds, not only to investigate but to potentially initiate some form of accountability. The Sheriff wants to see that from the D.A. in Texas and we're pursuing that with the Department of Justice in this state."
In early June, Salazar's office issued this statement as they filed charges.
"The charge filed is Unlawful Restraint and several accounts were filed, both misdemeanor and felony."
They did not name a specific suspect. It's unclear if they are targeting DeSantis himself or someone in his office.
"At this time, the case is being reviewed by the DA's office," the statement read.
RELATED: Florida Gov. Ron DeSantis running for president
California's Attorney General Rob Bonta is looking into potential "kidnapping" charges against the Florida Governor.
DeSantis has claimed the migrants traveled willingly, while Newsom argued that they were deceived.
Newsom said it was helpful to discuss Salazar's case with him.
"He wants to pursue criminal charges and we are investigating whether the similarities and the contours of consideration allow us to do the same because we believe in accountability and we think this is wrong."
Michaelson's full interview with Governor Gavin Newsom will debut on "The Issue Is:" on FOX 11 Los Angeles on Friday night at 10:30pm.