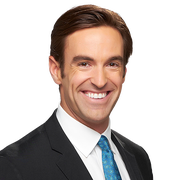 Elex Michaelson co-anchors FOX 11 News weeknights at 5 p.m., 6 p.m. and 10 p.m. with Christine Devine. He co-hosts the "FOX 11 Special Report" with Marla Tellez weeknights at 7 p.m. 
He also hosts and produces the political talk show The Issue Is, which airs on stations throughout the state of California.  
Elex is an Agoura Hills native and his first job in broadcasting was as a FOX 11 intern. He's a self-described "political junkie" who has conducted one-on-one interviews with nearly every key political figure including Donald Trump, Hillary Clinton, Bernie Sanders, Joe Biden, Al Gore, Gavin Newsom, and more. He's reported live from the Republican and Democratic National Conventions, multiple Presidential Inaugurations and debates.
Michaelson is the winner of 6 Emmy Awards and 13 nominations. From 2010-2017, he was a reporter and fill-in anchor at KABC-TV in Los Angeles. Prior to that, he served as a weekend morning anchor and weeknight reporter at XETV in San Diego. He graduated first in his class from the Annenberg School of Journalism at the University of Southern California. He earned Summa Cum Laude and Phi Beta Kappa honors while picking up dual degrees in broadcast journalism and political science.  
The latest from Elex Michaelson