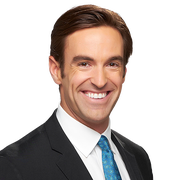 Elex Michaelson co-anchors FOX 11 News at 5 p.m. and 10 p.m. with Christine Devine. In addition to the evening newscasts he hosts and produces the political talk show "The Issue Is." Elex was born in Agoura Hills native. His first job in broadcasting was as a FOX 11 intern. He's a self-described "political junkie" who has conducted one-on-one interviews with nearly every key political figure including Donald Trump, Hillary Clinton, Bernie Sanders, Joe Biden, Al Gore, Gavin Newsom, and more. He's reported live from the Republican and Democratic National Conventions, multiple Presidential Inaugurations and debates. Michaelson is the winner of 5 Emmy Awards and 11 nominations. From 2010-2017, he was a reporter and fill-in anchor at KABC-TV in Los Angeles. Prior to that, he served as a weekend morning anchor and weeknight reporter at XETV in San Diego. He graduated first in his class from the Annenberg School of Journalism at the University of Southern California. He earned Summa Cum Laude and Phi Beta Kappa honors while picking up dual degrees in broadcast journalism and political science.
The latest from Elex Michaelson
As the nation mourns, we also grapple what do to about mass shootings? And what to do about guns?
Two debate nights. 20 candidates. Three interesting panelists. 
Democratic Congresswoman Katie Hill is one of the rising stars in Congress. Her fellow freshmen voted her their representative to leadership.
On this program... An increasing number of Democratic members of Congress & presidential candidates are calling for President Trump to be Impeached. Democratic Congresswoman Karen Bass of Los Angeles isn't one of them.
Cory Booker had a break out moment with his address regarding gun control at the California Democratic Convention. 
In this week's episode, we talk with attorney Gloria Allred, Caroline Heldman from Occidental College, and John Thomas, Republican strategist.