Moreno Valley community holds vigil to honor student killed in on-campus attack
MORENO VALLEY, Calif. - Hundreds of people came together to honor and remember the life of Diego – a life lost too short. 
Family, friends and community members were wearing blue ribbons, holding balloons and not holding back tears. 
It was a heartbreaking tribute to Diego... just feet away from where the Landmark Middle School student was attacked by two other students.
"Today we were driving over here and it just felt different ...he said - I just don't feel the same," said parent Lizet Escobeto.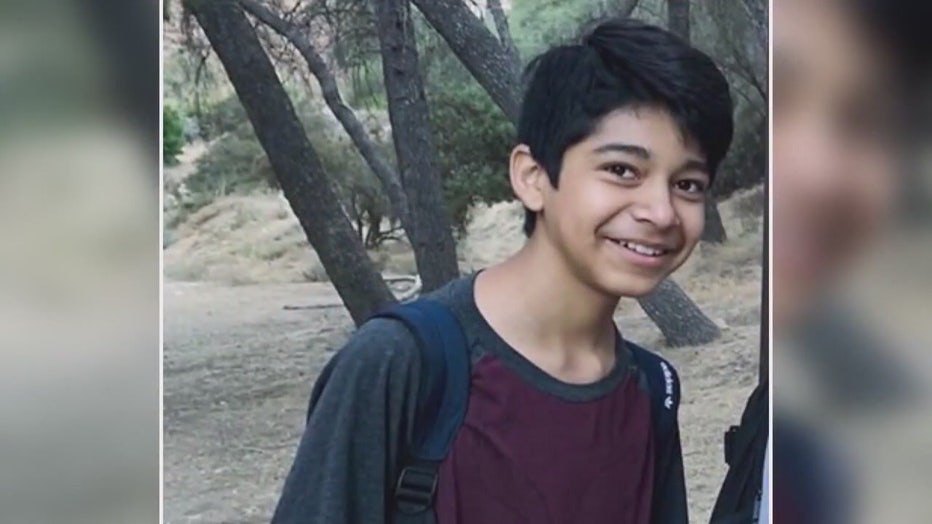 Last week 13-year-old Diego was sucker punched by one student and hit in the head by another. The punch caused him to fall to the ground –hitting his head on a concrete pillar. Diego later died from his injuries. 
"They knew he was getting bullied - but the district didn't do anything about it. They just changed his classes and that didn't really help at all," said Bellanira Celderon who rode the bus with Diego. 
"Landmark could have done something to actually prevent this from happening - ignore it - cost him his life," stated student Alice Rosales. 
Related: Moreno Valley student, 13, dies from injuries sustained during fight at middle school
2 students arrested following fight that left boy in critical condition at Moreno Valley middle school
Since Diego's death the students in this video have been charged with assault by means of force likely to produce great bodily injury, and school officials have come under fire.
Family members have alleged they reported the bullying to school officials before the attack.
"It's really sad. It's unfortunate that the district didn't intervene in helping Diego and preventing him from passing," said Charlene Ross whose brother attends the school. 
On Thursday Moreno Valley Unified School District officials postponed a parent meeting to hold this remembrance ceremony. 
After the ceremony the district addressed the media. 
"They haven't spoken to us and we have to have release of information before we release information," said Dr. Martinrex Kedziora, superintendent of Moreno Valley Unified School District.
The district did not answer any questions about their anti-bully policies.