Measure A: Priest accused of endorsing removal of LA County Sheriff Alex Villanueva
LOS ANGELES - Caught on camera – parishioners at a Catholic church in Boyle Heights are being encouraged by their priest to make a pledge to vote "Yes" on a ballot measure that would kick Los Angeles County Sheriff Alex Villanueva out of office.
If approved by Los Angeles County voters, Measure A would give the Board of Supervisors the power to remove the Sheriff from the office.
During a Sunday sermon at Dolores Mission, Father Brendan Busse was seen in a video explaining the significance of Measure A.
"A measure to allow supervision over the county sheriff. As we know, there's been a lot of questions about how the sheriff is using his power. This man is just to supervise to make sure that he's not abusing the power," Busse was seen saying in the video.
FOX 11 obtained a copy of the alleged card that was passed around at the church.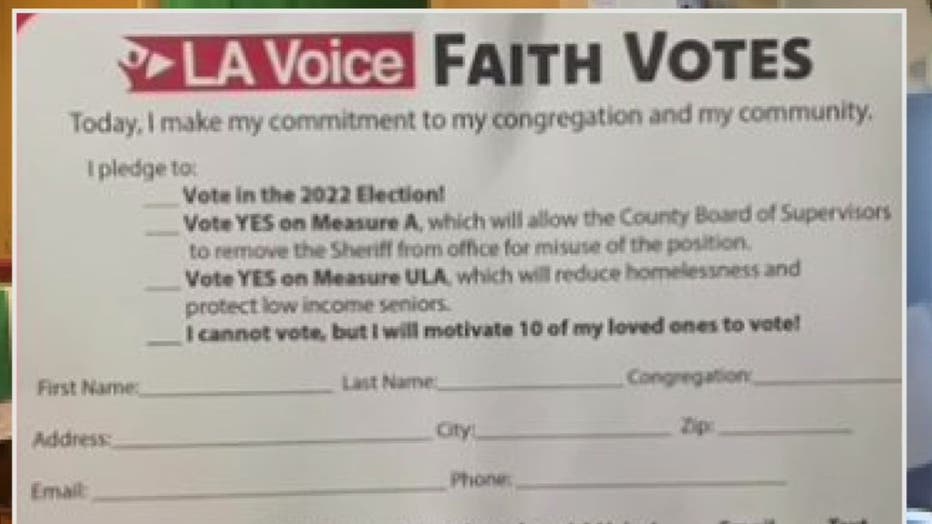 Following the release of the video, Busse appeared to have backtracked from the controversial sermon. In an interview released by a popular social media page, Vintage Los Angeles Crime, the Dolores Mission priest said he did not take a political stance.
"I did not get explicit permission from the archdiocese, but there was not partisan position taken. I'm not advocating for the removal of the Sheriff at all. And I don't think I ever had," Busse can be heard telling Vintage Los Angeles Crime in an interview.
It is worth noting in this story that churches looking to maintain their tax-exempt status must stay out of politics all together. According to a note from the Internal Revenue Service (IRC), churches and charities are not allowed to engage in political campaign activity.
The IRS explained on its site that a 501(c)(3) organization is defined as a one "which does not participate in, or intervene in (including the publishing or distributing of statements), any political campaign on behalf of (or in opposition to) any candidate for public office."