May Day digital protests, walk-out strikes planned amid ongoing pandemic
LOS ANGELES - May Day protests were set nationwide on Friday, but would be different this year due to the ongoing pandemic.
For 2020, labor groups and other worker rights related causes planned to take their grievances online for International Workers' Day as opposed to the streets.
Union organizers said Amazon, Whole Foods, Target and FedEx employees would be calling off sick or walking off the job over issues such as sick leave and cleaning supplies. 
RELATED: Amazon, Instacart and other essential workers reportedly plan walk-out strike May 1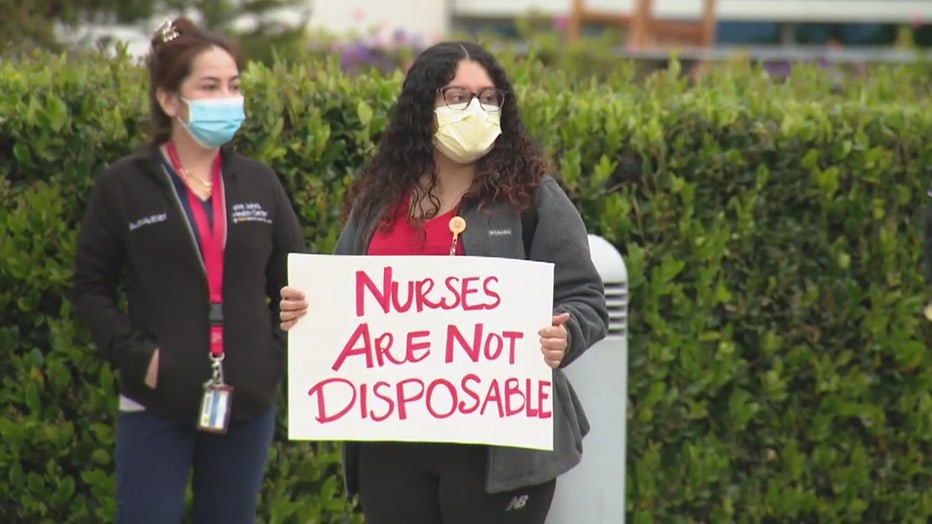 In California, Kaiser Permanente nurses Friday were expected to expose the healthcare system for a lack of PPE and other preventative measures after being exposed to or testing positive for COVID-19.
RELATED: Stay up to date on all coronavirus-related information
They also said nurses have been retaliated against for speaking out.
Kaiser Permanente released the following statement regarding CNA Rally:
"We completely acknowledge and understand our nurses' and other front-line workers' concerns and anxiety. They have every right to be concerned. But, know that we are dedicated to two things right now: 1) Keeping our front-line workers safe, and 2) providing care to our patients. If we fail at the first, we will fail at the second. We can't care for anyone if our caregivers all get sick.
It's important to know we are providing our staff with the personal protective equipment that is aligned with the latest science and guidance from public health authorities. These are the same supplies and equipment that are also being used by hospital systems in California and across the nation. It is paramount that our caregivers have the right level of protective equipment, and we are committed to ensuring they do – now and over the course of this pandemic.
 To further support our teams as we fight this crisis, we have also recently established an expanded set of temporary benefits to help our frontline staff address some of the challenges and uncertainty caused by this pandemic. This includes additional paid time off for employees who have tested positive for COVID-19, childcare grants and short-term housing to support those with needs for temporary, alternate housing.
 We are grateful to our entire nursing staff for their dedication to our patients. We understand this is a stressful time and we encourage staff to raise concerns. As the COVID-19 pandemic advances and we continue to serve our patients, we will ensure that we have the benefits, programs and practices in place to support and protect our most critical resource – our people."
Get breaking news alerts in the FOX 11 News app. Download for iOS or Android.