Maui families 'need hope and prayers' in aftermath of massive fires
LOS ANGELES - Russell Neilson may be from Southern California, but a huge part of his heart, and his home, are in Hawaii. He lives on Maui, in Lahaina, with his family. He was flying back home from business here when the fires erupted. He couldn't catch a flight back, and spent countless hours trying to reach his wife Lorrie and their 8-year-old daughter.
He eventually did, and found out their home had survived and had become the gathering center for the many other families around them who lost everything. "We've had fires before" Neilson explained, "the last time it was 22 homes, many of them belonging to friends, but the most recent statistic from NASA puts the loss this time as more than 2,200. How do we even begin to…"
At last estimate, at least 80 people have died in the fires.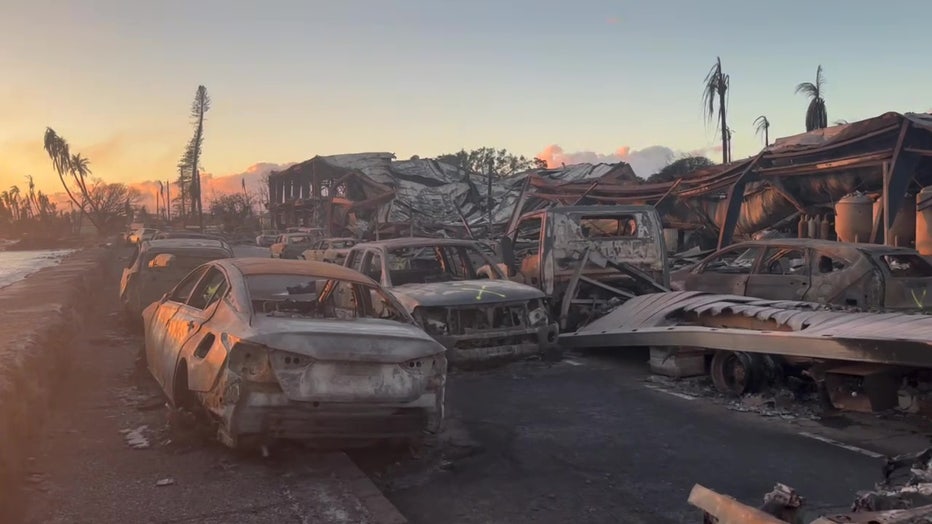 The shock is barely beginning to set in as everyone seems to be mobilizing in the Ohana spirit Hawaii is well known for. Lorrie Neilson is housing and feeding dozens of people, while residents from other islands are coming ashore on boats with boxes of food to hand out. But there is also anger. Russell Neilson said fires in the area are common, because power lines, blown in the wind, tend to start them. "We've been asking for so long that the lines go underground," he explained.
READ MORE: 
There is also the issue of warnings, and why people didn't hear sirens in the middle of the night, when the flames took over the historic town of Lahaina. Finally, there's the issue of seeing tourist boats, filled with snorkelers, from the side of Maui where there was no damage. 
"The locals feel spit on" he says, adding that those rooms should be opened up for people who have lost their homes.
For now, though, the immediate focus is on helping people. Russell's community has set up a GoFundMe campaign.
"No fees, nothing but direct and much-needed help for the people" Neilson said.
He is also booking flights for the children of some of his neighbors, who want to get them to family in Southern California. Schools are destroyed, the water is polluted, and bodies are still being dug out of the rubble.
"We need help," Neilson said. "But please, we also need prayers."
More info on Neilson's GoFundMe campaign can be found by clicking here.