Magnitude 3.9 earthquake rattles Ojai area
OJAI, Calif. - A preliminary magnitude 3.9 earthquake struck Ventura County on Tuesday morning. 

The U.S. Geological Survey (USGS) says the quake was reported at 4:39 a.m. about five miles from Ojai and it was recorded at a depth of about 6 miles.
RELATED: Are you prepared for an earthquake?
The latest quake is an aftershock following a 5.1-magnitude earthquake and an estimated dozen of aftershocks on Sunday. Some experts have called Sunday's temblor a "hurriquake," since it occurred as Southern California was hit with heavy rain and strong winds from the remnants of Tropical Storm Hilary.
RELATED: More than a dozen earthquakes rock Southern California amid Tropical Storm Hilary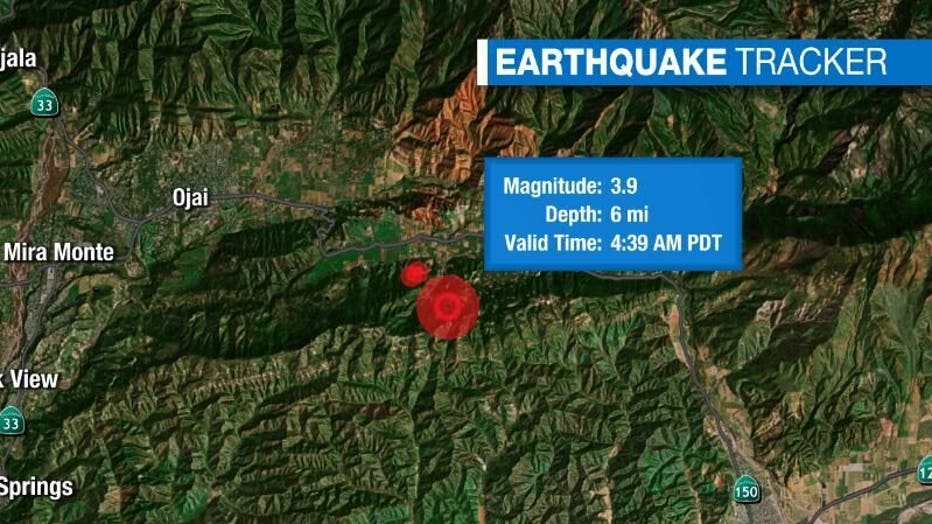 An earthquake rattled the Ojai area on the morning of Aug.22, 2023.
There were no immediate reports of damage or injuries. While there are many variables involved, geologists say damage does not usually occur until the earthquake magnitude reaches somewhere above 4 or 5.
RELATED: Surviving the earthquake: Prepare, Survive, Recover

USGS provides information about earthquakes by state and preparedness information, including helpful information for those in California.