Madonna announces rescheduled LA 'Celebration' tour dates after health scare
Madonna, whose highly anticipated "Celebration Tour" had to be delayed when the Material Girl was hospitalized with a bacterial infection, has rescheduled her show dates, with all of her Los Angeles appearances now set to be held at the Kia Forum in Inglewood in March.
Since most of her original shows had been scheduled at Crypto.com Arena downtown, all ticketholders for the previously planned Los Angeles performances will receive refunds, and they will have to buy new tickets for the rescheduled appearances.
RELATED: Madonna feeling better, recovering at home following 'serious' hospitalization
Madonna was previously scheduled to perform for four nights at Crypto.com Arena -- Sept. 27-28, Sept. 30 and Oct. 1 -- and two nights at the Kia Forum, Jan. 7-8.
Under the new schedule, she will now perform five nights at the Kia Forum -- March 4-5, 7, 9 and 11.
According to Kia Forum officials, all original ticketholders will automatically receive a refund by Aug. 28. Those fans will also receive a dedicated link and code from Ticketmaster allowing them the chance to purchase tickets for the specific new date of the concert for which they had bought tickets. The links and codes will be prioritized "based on the quality of (ticketholders') previous seat locations."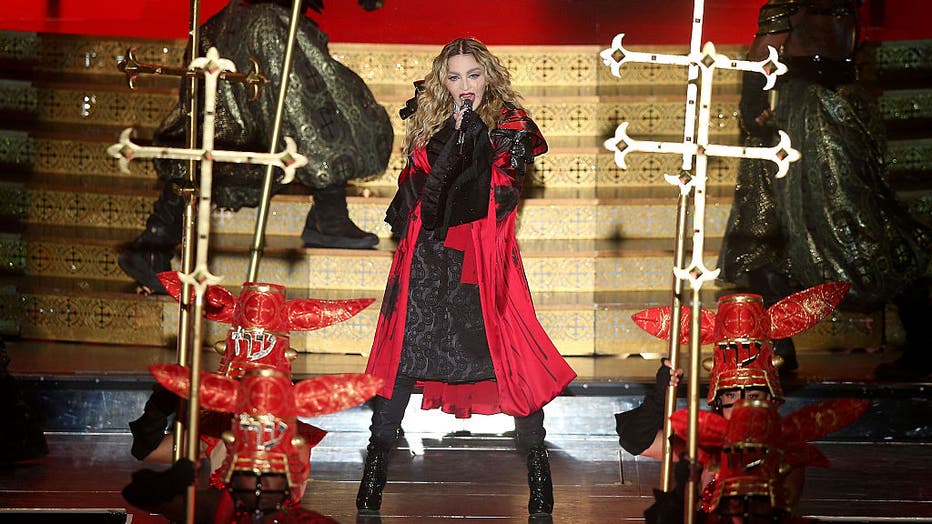 Madonna performs in concert at Rod Laver Arena on March 12, 2016 in Melbourne, Australia. (Photo by Graham Denholm/Getty Images)
The advance sales for previous ticketholders will begin Aug. 29 and continue through Aug. 31. A second presale opportunity will be held from Sept. 1-4 for people unable to purchase tickets for the specific date on which the original performance has been rescheduled. During the second presale, people will be able to purchase tickets for any of the new dates.
RELATED: Madonna has message, tour details after ICU infection scare
Any tickets remaining after the presales will go on sale to the general public on Sept. 5 through Ticketmaster.
The "Celebration Tour" is scheduled to begin in London on Oct. 14. Performances in the United States will begin Dec. 13 in New York.