Long Beach police release bodycam video of fatal officer-involved shooting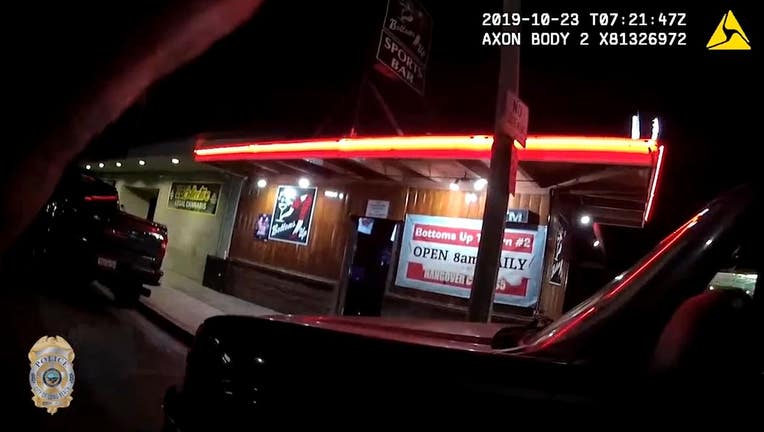 article
LONG BEACH, Calif. - Police have released surveillance and bodycam video of a deadly officer-involved shooting at a bar in Long Beach.  
The shooting occurred on Oct. 23 at Bottoms Up Sports Bar on the 1700 block of East Artesia Boulevard.
A patrol officer was flagged down by witnesses who alerted him of an armed man inside the bar who was shooting. 
Related: 2 killed, 1 wounded in officer-involved shooting at Long Beach bar
In a Community Briefing Video released by the Long Beach Police Department you can hear shots fired as the officer was speaking with the bystander.
Police say the officer began to approach the building and looked inside the bar to find a man, who was identified as 48-year-old Delfon Kinney, pointing a gun at patrons. The officer then fired his weapon, the department stated.  

Surveillance video from inside the bar shows the suspect pointing a gun at a man near the bar. Kinney then fired his weapon as people ran for cover. Police say that victim was shot in the upper torso. He was able to run out of the business and was taken to a local hospital with non-life-threatening injuries.
Following the first shooting, police say Kinney fired additional shots-- striking and killing a man. The victim killed was identified as 44-year-old Manuel Marquez, an employee of the bar. 
Following the officer-involved shooting—additional officers were called to the scene and began rescuing people inside. 
The police department says officers located Kinney on the ground, unresponsive with the gun still in his hand. Kinney was pronounced dead on scene. Officers located additional patrons in the bathroom. 
Police say Kinney was in the bar for about three hours before the initial shooting. It was unknown if the gunman was killed by police or by a self-inflicted gunshot wound. 
A motive for the shooting is still not known, the investigation is ongoing.