2 killed, 1 wounded in officer-involved shooting at Long Beach bar
LONG BEACH, Calif. - Authorities were conducting two separate investigations after two people were killed and one person was wounded when a gunman opened fire inside a bar in Long Beach early Wednesday morning. 
The initial shooting was reported at Bottoms Up Tavern located near the intersection of East Artesia Boulevard and Cherry Avenue around 12:20 a.m. when a resident flagged down an officer about a gunman who walked into the bar and opened fire, the Long Beach Police Department said.
The suspect fired shots toward the back of the bar near pool tables, officials said. 
Officers arrived to the scene and heard gunfire erupting inside the establishment. Patrons were seen scrambling to bathrooms, corners, and toward the exit with attempts to escape the flying bullets.  An estimated 20-30 people were inside the bar, witnesses said.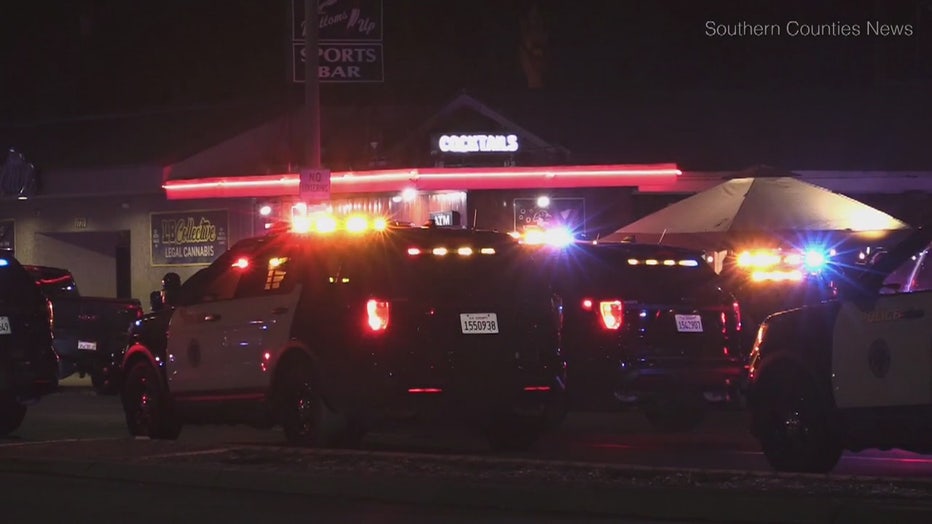 Witnesses heard officers fire six to seven shots before they rushed into the bar. Long Beach police SWAT set up a perimeter around the tavern and helped evacuate patrons one-by-one. 
One person was shot and killed by the gunman and a second victim was shot in the back and taken to Long Beach Memorial Medical Center. The second victim's injuries were considered non-life-threatening, authorities said. 
Officers fired shots toward the suspect near the front entrance of the bar, Long Beach police said. He was pronounced dead the scene.  
It was unknown if the gunman was killed by police or by a self-inflicted gunshot wound. 
The names of the suspect and victims were not immediately released. 
Long Beach homicide detectives and officials with the Los Angeles County District Attorney's Office were conducting two separate investigations. 
Homicide detectives found additional shell casings belonging to another weapon, which led police to believe there may have been a second shooter involved in the initial gunfire before officers arrived. 
Artesia Blvd. from Orange to Cherry avenues was expected to be closed for several hours while authorities conducted the investigations. 
This is a developing story. Check back for updates.