Long Beach police arrest teen gang members on suspicion of murder, attempted murder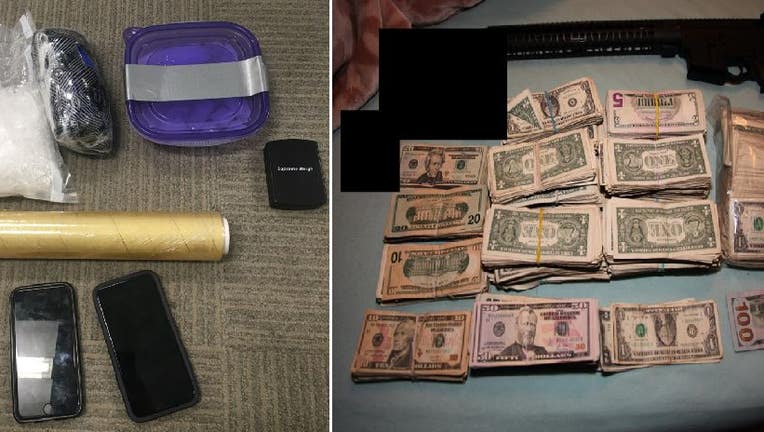 article
LONG BEACH, Calif. - Long Beach police arrested three teenaged gang members for their alleged involvement in two murders and five non-fatal shootings.
The arrests were part of a multi-agency investigation into gang-related crimes committed between Nov. 21 and Feb. 4, said Long Beach police Chief Robert Luna.
Dubbed "Operation Broken Hearts,'' the investigation was led by Long Beach police detectives, assisted by personnel from the Los Angeles Police Department, Los Angeles County Sheriff's Department, California Department of Corrections and Rehabilitation and Los  Angeles County parole officers.
Authorities served warrants at about two dozen locations in Long Beach, Los Angeles, Norwalk and Paramount, Luna said.
Two teenage boys, ages 16 and 17, were booked on suspicion of murder and attempted murder; and another 17-year-old boy was booked on suspicion of attempted murder.
Police say their alleged crimes, two murders and five shootings, affected the lives of 19 male and female victims between the ages of 16 and 71.
The juveniles are accused of the shooting death of 36-year-old Jaime Ruiz of Long Beach on Nov. 22. and the shooting death of 32-year-old Bradley Meas of Long Beach on Dec. 29.
"It is unacceptable that we have 16- and 17-year-olds from our community who are being recruited into the gang lifestyle and choosing to
terrorize, injure and end the lives of others,'' said Luna. "These arrests are a strong reminder to our community that it is our shared responsibility to identify and disrupt pathways to violence.''
They are also accused of five non-fatal shootings between Nov. 21 and Feb. 4, according to police. The three teens, whose names were not released because they are underage, are members of the same gang and were on probation at the time of their arrests, Luna said. All three are being held without bail.
Police seized five handguns, one rifle, three pounds of methamphetamine and an undisclosed amount of cash. They also arrested 10 adults for various crimes.
Alfredo Pina, 31, of Long Beach was booked for possession of a controlled substance for sale and is being held at the Long Beach City Jail on $100,000 bail, according to police.
Edwin Soriniano, 27, of Long Beach, was booked for unlawful possession of a firearm and being a prohibited possessor in possession of a firearm and parole violation and is being held in the Long Beach City Jail without bail, according to police.
Carlos Chavira Parra, 34, of Paramount, was booked for possession of a firearm and is being held in the Long Beach City Jail on $35,000 bail, police said.
The names of the other seven adults arrested were not immediately available.
Investigators believe the suspects generally targeted rival gangs or people connected with other gangs, and that some victims may have been hit by stray gunfire, Luna said.