Law enforcement agencies pay respect to fallen L.A. detective during processional
LOS ANGELES - The body of sheriff's Detective Amber Leist, who was struck by a vehicle after helping a woman cross a Valley Village Street, was carried in a solemn procession Wednesday from the Los Angeles County coroner's office to a mortuary in Covina, escorted by dozens of law enforcement vehicles.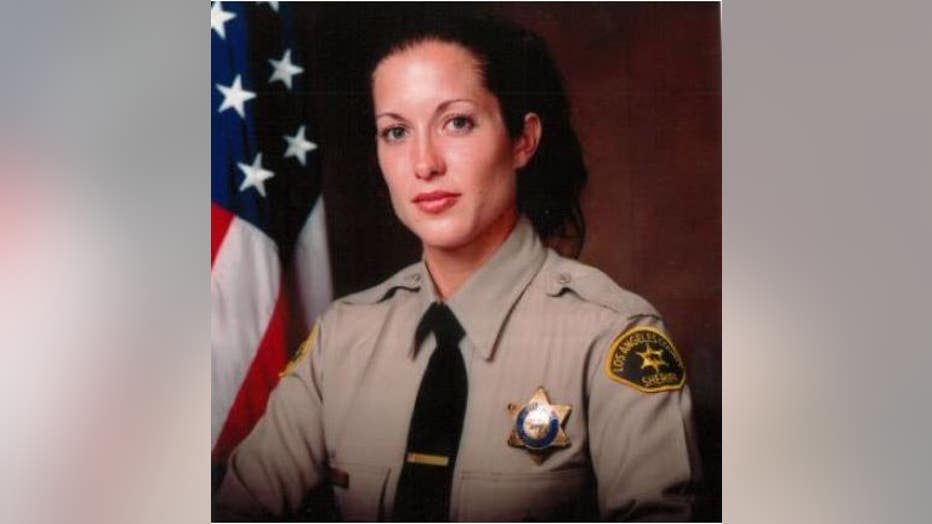 The procession began near downtown Los Angeles shortly after 11 a.m. and arrived about an hour later at Malinow and Silverman Mortuary at 578 E. San Bernardino Road. Funeral arrangements have not been announced.
Related:
• Off-duty LA County Sheriff's detective fatally struck in Valley Village
• Video shows LASD detective helping elderly woman cross street before she was fatally struck
• Candlelight vigil held for heroic LA County Sheriff's detective who was fatally struck
The hearse carrying Leist's body passed under an American flag hanging from a pair of fire truck ladders as it left the coroner's office. Dozens of law enforcement officers and deputies then joined the procession, lights flashing on their patrol vehicles as the motorcade moved along freeways and city streets.
The motorcade came the morning after a candlelight vigil was held at Whittsett Avenue and Riverside Drive in Valley Village, near where Leist was fatally struck by a vehicle about 11 a.m. Sunday after she helped a woman who had fallen in the intersection get to safety.

Leist, 41, was returning to her vehicle when she was struck. She was taken to a hospital, where she was pronounced dead, the LAPD said.
More than 100 people attended Tuesday night's vigil.
"Our hearts are broken,'' Amber's father, Daniel Leist, told reporters at the vigil. "This is the most heart-rending thing you could ever experience. You never think you're going to lose your baby. But Amber came into this department and she knew what she had to do.''
One of her two sons, Daniel Laney, spoke at the vigil.
"My grandparents gave her the middle name Joy,'' Laney said. "That name fits her well, because everyone she came across she brought joy to.''
The LASD shared on its Twitter page a video tribute to Leist from her classmates at the Sheriff's Academy that included the caption, "Amber touched everyone w/her positive & uplifting personality. We may not be able to see you, but we know you'll always be there.''
The woman Leist helped before being struck by the vehicle also attended the vigil.
"She saved my life, I wish I could have saved hers,'' Leslie Menaha told FOX 11.
Leist was a 12-year-veteran of the department, Sheriff Alex Villanueva said.
More than two dozen deputies from the LASD's West Hollywood Station attended the vigil.
"This hit us so hard, it's so devastating, for everyone,'' colleague Ebony Jackson said. "She was so impactful.''
The driver who hit the deputy stayed at the scene to render help, the LAPD said.
Leist was off-duty when she was struck, but Villanueva said the incident would be treated as an on-duty occurrence.
A makeshift memorial of candles, flowers and pictures was created at the intersection where Leist was killed.