LAUSD superintendent says remote learning will continue through school year, summer school session
LOS ANGELES - Los Angeles Unified School District Superintendent Austin Beutner said schools will remain closed and remote learning would resume through the rest of the school year and summer break amid the coronavirus pandemic in an update Monday.
The superintendent faces a great amount of uncertainty as there are many unknowns when it comes to the coronavirus crisis.
RELATED: CoronavirusNOW.com, FOX launches national hub for COVID-19 
Beutner said "the path to reopening is not known," and will continue to act under the guidance of state and local authorities.
Gov. Gavin Newsom warned last month it was "unlikely" schools across the state would reopen by the end of the academic year.
RELATED: 
• Parents face new reality after schools are closed for rest of school year amid pandemic
• California schools to remain closed until next academic year, Newsom says
Beutner also said high school seniors will have a virtual graduation ceremony, "at least for now."
It was also recently announced that teachers would be operating under new guidelines.
RELATED: LAUSD teachers to operate under new agreement when students return from spring break Monday
Under the new agreement, United Teachers Union Los Angeles worked with the district to ensure flexibility for teachers. The agreement prohibits the requirement to teach live on video, which is important for teachers who are now balancing home and work life with kids of their own at home. 
RELATED:
• LAUSD approves emergency declaration to battle coronavirus outbreak
• LAUSD to ramp up digital learning efforts as school closures extend through May
• LAUSD schools to close beginning Monday to prevent spread of COVID-19
It was also reported that thousands of the district's students are falling behind after failing to participate in online learning.
RELATED: Thousands of LAUSD students fail to take part in online courses, superintendent says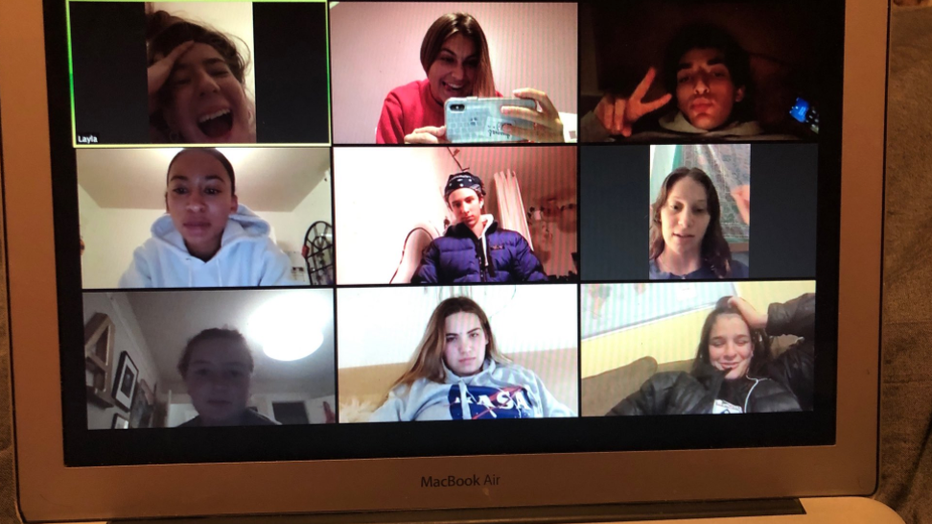 Students from Oakland Tech call each other on Zoom to stay connected during the shelter-in-place. March 17, 2020
Beutner said the district has a partnership with Verizon to provide free internet access to students who do not already have it.
The process was not expected to be immediate, as Beutner said it could take weeks or even months to get internet access to all students. 
On Monday, the superintendent also announced a partnership with Amazon that will allow every single high school student a set of headphones to use in order to eliminate distractions. Amazon will also deliver other various devices to the district's students.
Monday marks one month since the district's schools were closed. At the time, there were 50 confirmed COVID-19 cases in Los Angeles County. LAUSD initially closed schools for two weeks, and continued to extend closures based on recommendations from state and local officials.
LAUSD has also provided seven million meals to those in need at their 60 Grab & Go centers. 
RELATED: LAUSD opens 60 'Grab & Go' food centers amid COVID-19 outbreak
Last week, Beutner received a message from a student who had suicidal thoughts due to the pressure surrounding her, in conjunction with the stress caused by the pandemic. She is now receiving treatment.
CALL LAUSD Mental Health Hotline 800-854-7771
Get breaking news alerts in the FOX 11 News app. Download for iOS or Android.