Las Vegas' giant sphere eyeball is freaking some people out
Sphere lights up for the first time in celebration of Independence Day on July 04, 2023 in Las Vegas, Nevada. (Photo by Greg Doherty/Getty Images)
LAS VEGAS - What's being dubbed as reportedly the largest spherical structure in the world is definitely getting a lot of eyeballs, but some people aren't viewing it the same way.
The MSG Sphere at the Venetian Resort in Las Vegas illuminated for the first time over Fourth of July weekend, showcasing an out-of-this-world display standing at 366 feet tall and 516 feet wide. 
The $2.3 billion entertainment venue, which seats nearly 18,000 people, will host musical performances, exclusive movie screenings, and some sporting events.
There are 1.2 million LEDs that can be programmed to flash dynamic imagery on a much larger scale. 
For example, the sphere displayed a basketball when Las Vegas hosted the NBA 2K24 Summer League earlier this month.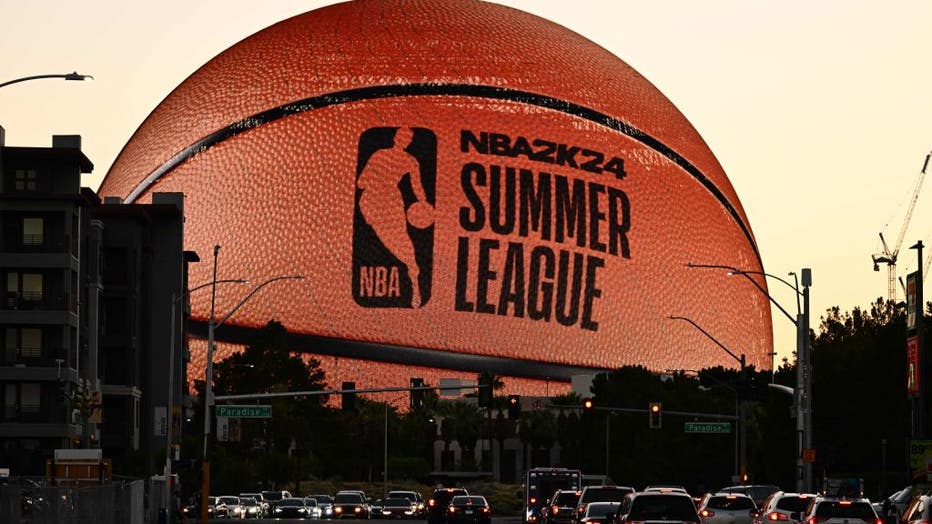 The MSG (Madison Square Garden) Sphere, new music entertainment arena, is lit up as a basketball to celebrate the 2023 NBA Summer League in Las Vegas, Nevada, on July 9, 2023. (Photo by Patrick T. Fallon / AFP) 
For Fourth of July, the Sphere illuminated an American flag.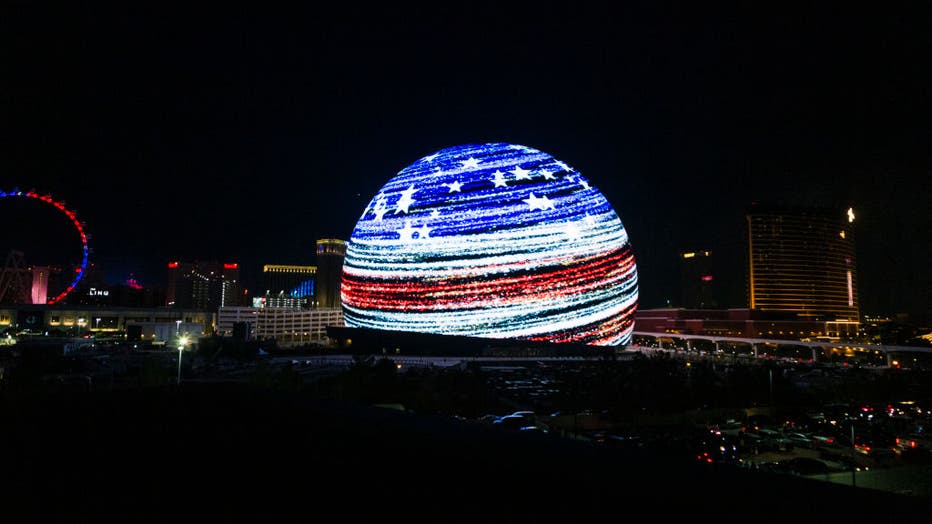 Sphere lights up for the first time in celebration of Independence Day on July 04, 2023 in Las Vegas, Nevada. (Photo by Greg Doherty/Getty Images)
Other themed holiday displays like a Jack-o'-lantern for Halloween and a winter wonderland for Christmas have also been spotted. 
The Sphere is seen at the Venetian Resort in Las Vegas, Nevada, United States on July 9, 2023. (Photo by Tayfun Coskun/Anadolu Agency via Getty Images)
But one display in particular is apparently really creeping people out. 
Cue the giant eyeball.
The giant orb overlooks the Wynn Golf Club - one of the most prestigious and expensive golf clubs in the country.
Rightfully so, the internet had some opinions. While some people said the eyeball display was perfectly Las Vegas, others said it was just too much. 
The Sphere is scheduled to open Sept. 29 with "U2:UV Achtung Baby Live at Sphere."