LA County closes all bars, restaurants, gyms, venues to help prevent coronavirus spread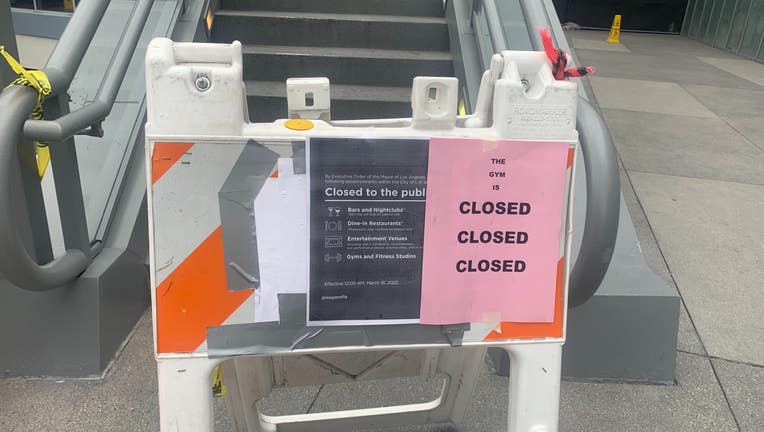 article
LOS ANGELES - Los Angeles County on Monday announced that all bars, restaurants (except takeout/delivery), entertainment venues, gyms and other establishments in the county would be closed in order to help prevent the spread of coronavirus.
The closures would also apply to all wineries, breweries, bowling alleys, arcades, clubs and movie theatres. Restaurants will be required to end dine-in service, but residents are encouraged to continue supporting local businesses by ordering delivery or takeout.
RELATED: 94 coronavirus cases in LA County; with 41 new cases in the past 48 hours
Grocery stores will continue to operate and county officials reminded the public that there is no shortage of food or interruption to local food supply, meaning residents do not need to overly stock up on supplies.
The mandate applies to all cities within the county, as well as unincorporated areas. County officials did not specify how long the closures would be in place.
Get breaking news alerts in the FOX 11 News app. Download for iOS or Android.
The news of this comes as LA County Public Health officials announced 25 new cases of novel coronavirus in the county, bringing the overall total up to 94. The announcement was made during a press conference Monday afternoon.
Of those 25 cases, five cases were contracted through a source of unknown origin, meaning they are believed to have been spread through the community. 
RELATED: Mayor Garcetti orders bars, restaurants, venues to close to help prevent coronavirus spread
In one of the new cases, the patient was exposed during recent travel to a location with known exposure to the virus and another case was an individual who had close contact with an individual confirmed to have coronavirus. One patient was announced Monday morning by health officials in Pasadena. The seventeen remaining cases are still under investigation by LA County Department of Public Health.
Two individuals out of the 25 are new cases are currently hospitalized, according to Los Angeles County Public Health Director Barbara Ferrer.
There have been 41 new confirmed cases in the past 48 hours, health officials said.
RELATED: CoronavirusNOW.com, FOX launches national hub for COVID-19 news and updates.