LA County announces COVID-19 Relief Fund to bring $28 million to impacted small businesses
LOS ANGELES - Los Angeles County officials Tuesday announced a public-private partnership that is expected to bring $28 million to small businesses in the county impacted by COVID-19.
"Our small businesses and nonprofits are economically and culturally interwoven in the fabric that makes up Los Angeles County," said Supervisor Mark Ridley-Thomas. "I am proud of Goldman Sachs, Wells Fargo Foundation, Citi, and our other private sector partners for joining with the County of Los Angeles to bring needed resources to our businesses, who are suffering great losses as we cope with this unprecedented pandemic."
RELATED: Garcetti announces small business loan program amid coronavirus outbreak
The Los Angeles County Board of Supervisors approved a motion Tuesday to create the Los Angeles County COVID-19 Small Business Assistance Program which calls for the creation of the COVID-19 Relief Fund, a public-private partnership that will provide critical funding for hundreds of small businesses and nonprofits in L.A. County being impacted by the COVID-19 pandemic.
Get breaking news alerts in the FOX 11 News app. Download for iOS or Android.
The motion aims to counteract COVID-19 related financial hardships small businesses and nonprofits are currently facing across all industries.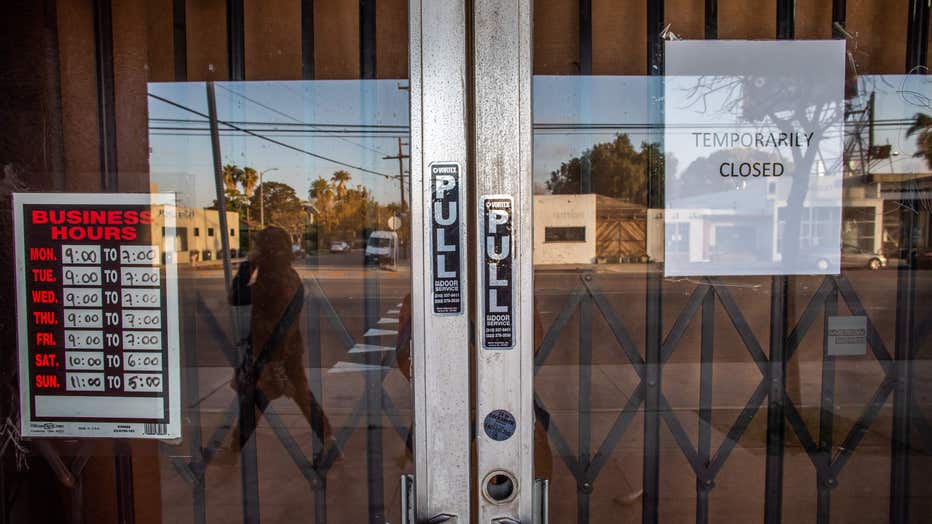 A framing art gallery is closed in Venice Beach, California' during the COVID-19 novel coronavirus on April 01, 2020. - Another 6.65 million US workers filed for unemployment benefits last week, the most ever recorded, as the coronavirus forces busin (Getty Images)
The county will provide the fund with an initial $12 million dollars investment. Private sector partners have also joined in to leverage this initial investment. Initial private sector commitments include $15 million in capital from Goldman Sachs Group, Inc., $1 million from the Wells Fargo Foundation, $100,000 from Citi Community Development and $25,000 from Union Bank Foundation.
County officials say that the partnership with Goldman Sachs Group, Inc., will open a new channel for up to $15 million of additional Paycheck Protection Program (PPP) loans targeting microenterprises and nonprofits through Goldman Sachs' national community development financial institution partner, Community Reinvestment Fund, USA (CRF).
CRF plans to work through local partners to reach target businesses and nonprofits who might otherwise not have access to the PPP program via a traditional banking relationship, county officials said.
The motion directs the Department of Consumer and Business Affairs (DCBA) to launch the fund by April 21, 2020. For more information about how to access available funds and updates on the Relief Fund, visit the County's Disaster Help Center, or call 833-238-4450.