LA County allowing gyms, museums, day camps, swimming pools, among other places to reopen Friday
LOS ANGELES - Los Angeles County announced which business sectors would be permitted to reopen with modifications as early as Friday as the total number of coronavirus cases rose to 67,064 cases with 2,768 deaths.
On Wednesday, the county reported 1,275 new coronavirus cases and 61 additional deaths.
Forty-two people who died were over the age of 65 years old, 13 people who died were between the ages of 41 and 65 years old, and three people who died were between the ages of 18 and 40.
The Los Angeles County Public Health Department lists the race and ethnicity data associated with COVID-19 deaths on its website.
MOBILE USERS, CLICK HERE TO WATCH PRESS CONFERENCE
Approximately 93% of all county residents who died from the virus had underlying health conditions. County Public Health Director, Dr. Barbara Ferrer said this emphasizes the county's need to protect those with underlying health conditions and urges those residents to stay at home as much as possible.
Get breaking news alerts in the FOX 11 News app. Download for iOS or Android
She said this includes, but is not limited to, individuals with asthma, those who have had cancer, anyone with chronic obstructive pulmonary disease and anyone who is immune-compromised.
"If you're part of one of these groups, you need to take every precaution imaginable to protect yourself from COVID-19," said Ferrer.
According to Public Health, 7,097 individuals who tested positive for COVID-19 at some point required hospitalization during their battle with the illness. There are 1,458 individuals currently hospitalized in the county with the virus, according to Public Health.
Testing capacity continues to increase in LA County, with testing results available for over 732,000 individuals and 8% of those people testing positive.
Public Health says that the average number of daily deaths reported in the county has been gradually decreasing, which Ferrer attributed to the hard work of the residents who have been social distancing.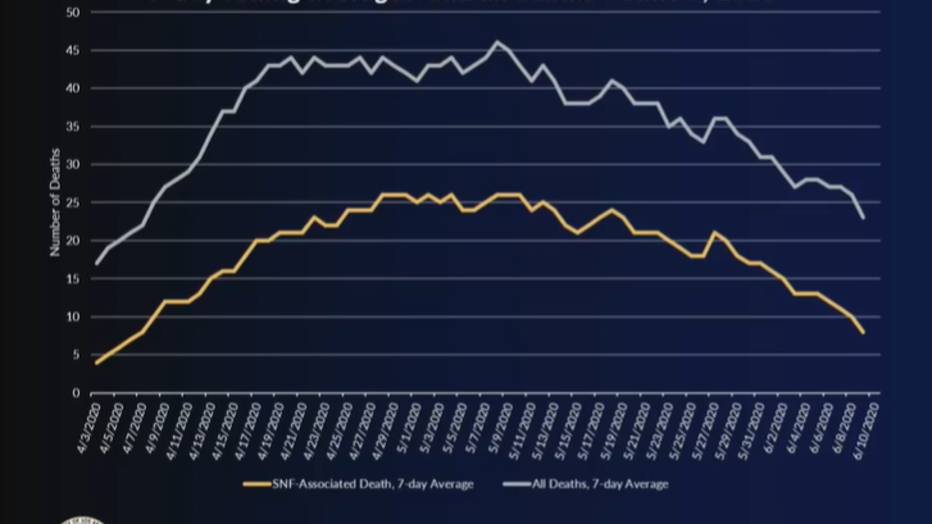 While LA County officials have not released data on the number of COVID-19 patients that have recovered from the virus within the county, John's Hopkins University reports that more than 524,000 patients have recovered nationwide.
Recently, the Centers for Disease Control and Prevention expanded the list of symptoms of the virus. The list now includes, fever, coughing, shortness of breath, chills, repeated shaking with chills, muscle pain, headache, sore throat, a new loss of taste or smell, congestion or runny nose, nausea or vomiting as well as diarrhea. 
Anyone who experiences these symptoms should call their healthcare provider or local public health department first before seeking medical care so that appropriate precautions can be taken.
Last week, Governor Gavin Newsom said that California will begin to allow schools, day camps, bars, gyms and professional sports to reopen with modifications starting Friday.
RELATED: Reopening California: Guidelines released for gyms, bars, movie theaters, other businesses
Ferrer Wednesday confirmed that the following sectors would be allowed to reopen as early as June 12 if they meet certain health safety criteria:
• Gyms and fitness facilities
• Professional sports without live audiences
• Day camps
• Museums, galleries, zoos and aquariums
• Campgrounds, RV parks and outdoor recreation
• Music, film and television production
• Hotels, lodging and short-term rentals for tourism and individual travel
County officials posted guidelines for what the sectors will look like when they reopen on the county website. Any business that plans to reopen must meet the legal health and safety requirements the county has issued prior to doing so.
According to Ferrer, nail salons will not be allowed to reopen yet because the state has not provided health order guidelines for what those businesses will look like when they reopened.
She also said that gatherings of any size are still prohibited under the health officer order, despite the fact that thousands gathered over the past week protesting against police brutality and racial injustices in the nation. Many protesters were not seen wearing face-coverings or social distancing.
Ferrer said that protesting and expressing an individual's first amendment rights is the only type of "gathering" currently permitted.
Public Health said in a statement that while it "supports the need for LA County residents to stand together against racism and violence," protesters should remember that we are in the midst of a pandemic and should practice social distancing and wear a face-covering securely over their nose and mouth.
"Protestors who have had close contact with non-household members not wearing face coverings, should when possible, self-quarantine at their residence for 14 days and monitor themselves for COVID-19 symptoms. If they develop symptoms, they should call their healthcare provider and consider testing," Public Health stated.
Public Health continues to stress to the public that while a majority of those who have died from COVID-19 in the county had underlying health conditions, not everyone does. Residents are urged to continue to take the necessary precautions in order to protect themselves from the virus.
Health officials say that social distancing remains our best defense against the virus, and all residents are instructed to abide by current measures in place across the state. Social distancing is not only about preventing the illness itself, but rather, slowing the rate at which people get sick. 
RELATED: Stay up to date on all coronavirus-related information 
The county's health department says that because of the COVID-19 pandemic and the risk of widespread transmission, everyone should always wear a face-covering securely over their nose and mouth and keep six feet apart from others not in their household when out and about.
On April 3, the CDC announced that it would be recommending people wear cloth face coverings in public settings where other social distancing measures are difficult to maintain, such as grocery stores and pharmacies, especially in areas of significant community-based transmission.
The use of face coverings is believed to help slow the spread of the virus and help people who may have the virus, without knowing it, from transmitting it to others.
The face coverings can be made at home from common materials at low cost, and the CDC has instructions on how to make them listed on its website. 
RELATED: Face coverings required at L.A. County businesses
This comes as more evidence is emerging that coronavirus infections are being spread by people who have no clear symptoms. In early April, the CDC changed how it was defining risk of infection for Americans, saying anyone may be a considered a carrier, whether they have symptoms or not.
RELATED: Asymptomatic coronavirus cases appear to be on the rise in China, report says
Public Health says that the best protection against COVID-19 is to wash your hands frequently, avoid touching your eyes, nose, and mouth with unwashed hands, self-isolate if you are sick, practice physical distancing and wear a clean face covering when in contact with others from outside your household.
Click here for a list of locations of confirmed coronavirus cases in Los Angeles County.
RELATED: CoronavirusNOW.com, FOX launches national hub for COVID-19 news and updates.