Infant killed, 4 injured in North Hills head-on collision involving suspected DUI driver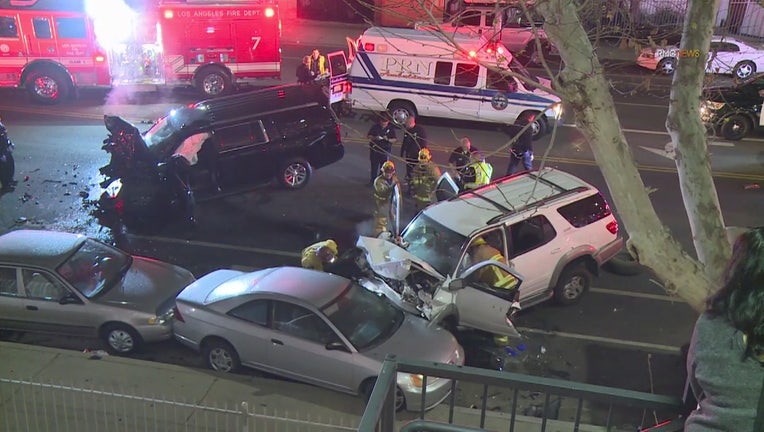 article
LOS ANGELES - An infant was killed after his mother, who is suspected of driving under the influence, veered into oncoming traffic before crashing into another SUV in North Hills early Tuesday morning, police said. 
The suspect who was driving a large white SUV with her kids in the backseat slammed into an Uber driver's black SUV off Nordhoff Street near Sepulveda Boulevard just after midnight, the Los Angeles Police Department said. The two SUVs then crashed into two parked cars.
LAPD investigators the woman's 4-month-old twins and a 5-year-old child were not properly restrained. 
Arriving LAPD officers immediately transported the young victims to a local hospital in patrol vehicles.
All five people involved in the crash were taken to local hospitals. 
One of the twins was later flown by the Los Angeles Fire Department to the UCLA Medical Center. The baby was in critical condition before he died, officials said. 
The mother, who was not wearing her seatbelt at the time of the crash, was trapped in the wreckage underneath the steering wheel for an estimated 10 minutes. She was freed from the vehicle before she was taken to a local hospital. 
The mother is facing possible DUI charges. 
Despite Tuesday's rainy conditions in Southern California, wet roadways were not believed to be a factor in the crash, the Los Angeles Police Department said. 
The investigation is ongoing.