Imelda Padilla becomes formal voting member of LA City Council
LOS ANGELES - The Los Angeles City Council formally welcomed Imelda Padilla Tuesday as a voting member and certified her victory in the Sixth District special election.
The council had appointed Padilla as a temporary voting member on July 5 while final results of her victory over council aide Marisa Alcaraz were being certified by the Los Angeles Country Registrar-Recorder/County Clerk's office.
Padilla took the oath of office at that time, joined by her family, saying the Sixth District is "ready to have a voting member" and "to have someone advocate on their behalf."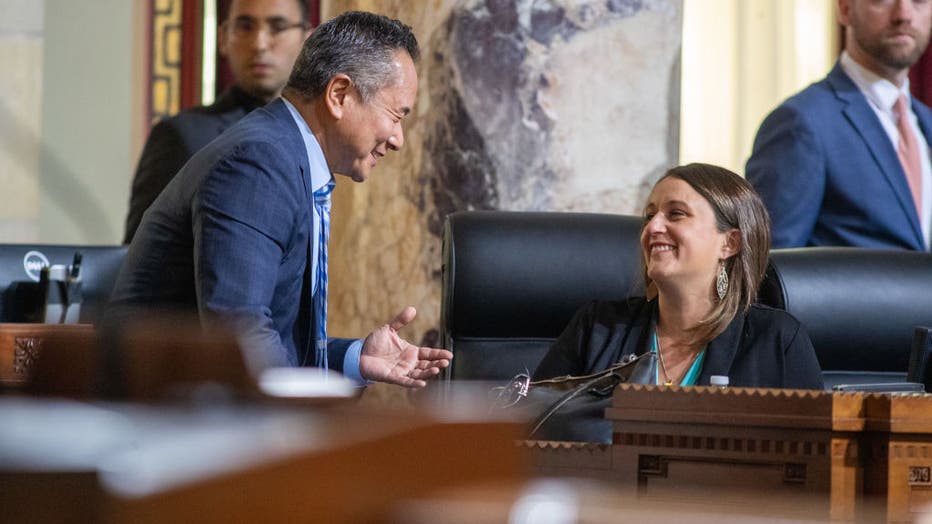 Imelda Padilla, the winner of the City Council District 6 race, right, chats with John Lee, left, Councilmember District 12,(Brian van der Brug / Los Angeles Times via Getty Images)
During Tuesday's council meeting, Padilla took a moment to thank her mother for being her "ride or die" in everything she does.
"As you will all see, we are a family of hustlers. My family works and I will be here to do what we do best in this capacity," Padilla said. "Just know that the things that I'm excited to be doing is be a coalition builder."
"I told my constituents that I would be coming here and be very intentional with what I do," she added.
PREVIOUS COVERAGE: Imelda Padilla named temporary voting member of LA City Council
Rep. Tony Cárdenas, D-Los Angeles, who formerly represented the Sixth District on the council, was on hand to congratulate Padilla and said her presence on the council would be a "new beginning of leadership and representation."
Councilwoman Monica Rodriguez, who represents the neighboring Seventh District in the northeast San Fernando Valley, thanked Cárdenas for joining them to celebrate this moment.
"It was no surprise, but simply a community-based struggle to be represented by interests that are reflective of who we are and it is unquestionable that this would be the case today because of how we all got here," Rodriguez said. "it was through hard work, perseverance, and a commitment to serving the very community that embraced us and help raise us to make us who we are."
Councilwoman Eunisses Hernandez said she was "grateful" for Padilla being "in this space with us." She also recognized that as Padilla takes her position, the council is now at "an even higher level of women" and an "even bigger historic number."
"Young people can lead. Young people with a progressive vision can lead and take these positions," Hernandez said. "I'm really just excited to have another person on here that can help lead our city, and lead our communities to a place that they're getting their needs met."
PREVIOUS COVERAGE: Nury Martinez resigns from LA City Council following backlash over leaked audio tapes
Councilwoman Traci Park said "here in the Council Chamber, we have a lot of things that we're going to be working on together."
A community relations manager, the 36-year-old Padilla will fill out the remainder of former Council President Nury Martinez's term, which ends in December 2024.
Martinez resigned in October after she was caught making racist comments in a meeting that was secretly taped and posted online.
The Sixth District consists of Van Nuys, Arleta, Lake Balboa, Panorama City, Sun Valley and the eastern portions of North Hills and North Hollywood.
The Council voted 12-0, with councilmen Curren Price, Tim McOsker and Paul Krekorian absent from the meeting at the time, to certify the results and welcome Padilla as a member.