Idaho killings: What's next for suspect Bryan Kohberger
MOSCOW, Idaho - It's been weeks since four University of Idaho students were stabbed to death in their beds, and now some of the mystery surrounding the case may soon fall away.
Bryan Kohberger, who was attending a nearby university around the time of the killings, was returned to Idaho on Wednesday to face charges of first-degree murder after his arrest last week. Court documents that could shed light on many unanswered questions are expected to be unsealed soon, even as a magistrate judge issued a sweeping gag order prohibiting anyone from discussing the case with media.
Kohberger was arrested Dec. 30 in connection with the deaths of Kaylee Goncalves, Madison Mogen, Xana Kernodle and Ethan Chapin. Here's a look at what is known so far about the killings, the suspect and the latest developments.
Who is Bryan Kohberger? 
Kohberger was arrested at his parents home in Chestnuthill Township, Pennsylvania, on an Idaho warrant. He agreed on Tuesday to be extradited to Idaho, and his Pennsylvania defense attorney Jason LaBar said Kohberger was eager to be exonerated.
Before the arrest, Kohberger was working toward a doctorate in the Department of Criminal Justice and Criminology at Washington State University, located 9 miles (14.5 kilometers) west of the University of Idaho in Moscow. Kohberger was also a teaching assistant at WSU, and lived in a university apartment.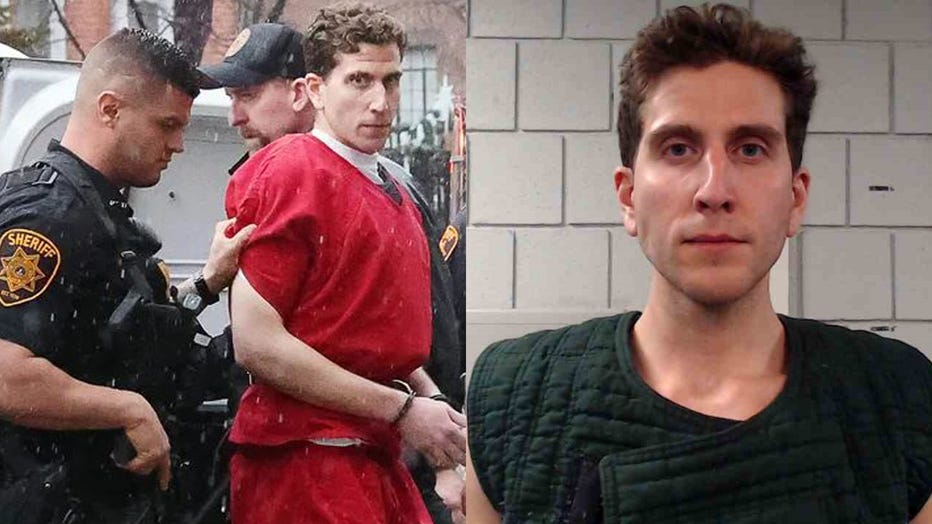 (L) Bryan Kohberger arrives at the Monroe County Courthouse in advance of his extradition hearing. He's charged with four counts of first-degree murder for the slayings of four University of Idaho students. (Fox News Digital) (R) Photo shows Bryan Ko
In a memo to students, WSU Chancellor Elizabeth Chilton wrote this week that Kohberger's arrest was shocking and urged students and staffers to cooperate with the investigative process as much as possible. Chilton called Kohberger "a former WSU Ph.D student," and said he was no longer enrolled at the school.
READ MORE: Idaho murder suspect Bryan Kohberger arrives in Moscow for trial: Everything we know so far
Kohberger graduated from Northampton Community College in Pennsylvania with an associate degree in psychology in 2018. He received a bachelor's degree in 2020 and completed graduate studies in June 2022 at DeSales University in Pennsylvania.
Who were the victims? 
All four were friends and members of the University of Idaho's Greek system. Kernodle, 20, was a junior studying marketing. She was from Post Falls, Idaho, and joined the Pi Beta Phi sorority. She lived at the rental home with the other two women who were stabbed, and she was dating Chapin, who was visiting the night of the killings.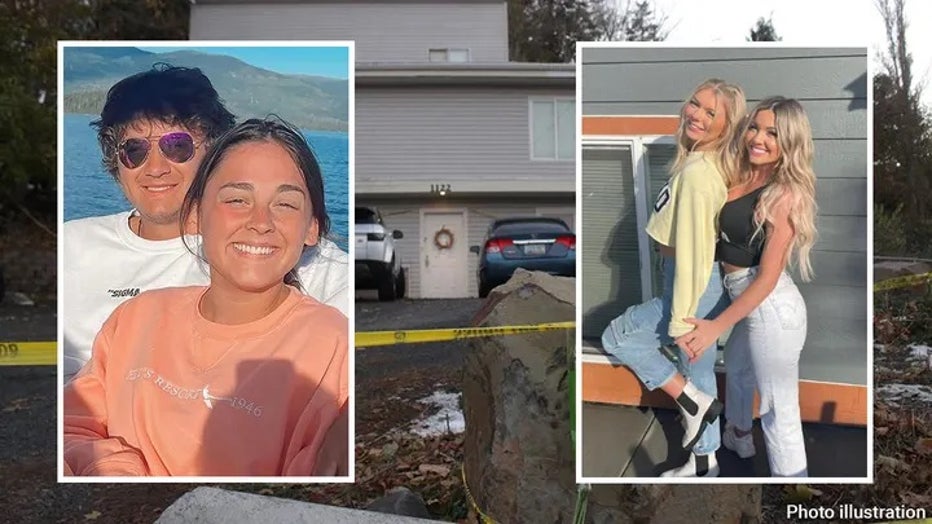 A split photo showing the crime scene and the victims, including University of Idaho students Ethan Chapin, 20, Xana Kernodle, 20, Madison Mogen, 21, and Kaylee Goncalves, 21. (Angela Palermo/Idaho Statesman/Tribune News Service via Getty Images/Inst
Chapin, 20, was from Conway, Washington, and was a triplet. His brother and sister also attend UI, and both Chapin and his brother were members of the Sigma Chi fraternity.
Goncalves and Mogen were both 21 and friends who grew up together in northern Idaho. Mogen worked with Kernodle at a Greek restaurant in Moscow. She was also a member of Pi Beta Phi.
Goncalves was a senior majoring in general studies, a member of the Alpha Phi sorority.
Police haven't said whether they think Kohberger knew the victims. Police and the county prosecutor's office have released confusing — and at times contradictory — statements about whether the victims were targeted.
When did Kohberger become a suspect? 
The Moscow Police Department has released few details about the investigation, but in December investigators asked the public for help finding a white sedan seen near the scene of the crime — specifically, a 2011-2013 Hyundai Elantra. Tips poured in and soon investigators announced they were working through a pool of around 20,000 potential vehicles.
Meanwhile, Kohberger apparently stayed in Washington through the end of the semester at WSU. Then he began driving across country to Pennsylvania, accompanied by his father, in a white Elantra.
READ MORE: Idaho murders: FBI directed Indiana police to pull over Bryan Kohberger, seeking video images of his hands
Kohberger was pulled over twice on Dec. 15 while traveling through Indiana, first by a Hancock County Sheriff's deputy and a few minutes later by an Indiana State Police trooper. During one of the stops he mentioned he was from WSU, and both stops ended with officers giving him a verbal warning for following too closely and sending him on his way.
The Indiana State Police later said there was no information available to the trooper that would have identified Kohberger as a suspect in the killings.
READ MORE: Idaho murders suspect Bryan Kohberger's new defense attorney identified
DNA evidence played a key role in identifying Kohberger as a suspect, and officials were able to match his DNA to genetic material recovered during the investigation, a law enforcement official said last week. The official spoke on condition of anonymity because they were not authorized to publicly discuss details of the ongoing investigation.
In addition to the DNA evidence, authorities also learned Kohberger had a white Elantra, the official who spoke anonymously told The Associated Press.
What happened the night and morning of the attack? 
Goncalves and Mogen went to a bar, stopped at a food truck and then caught a ride home around 2 a.m. on Nov. 13, according to a police timeline of the evening.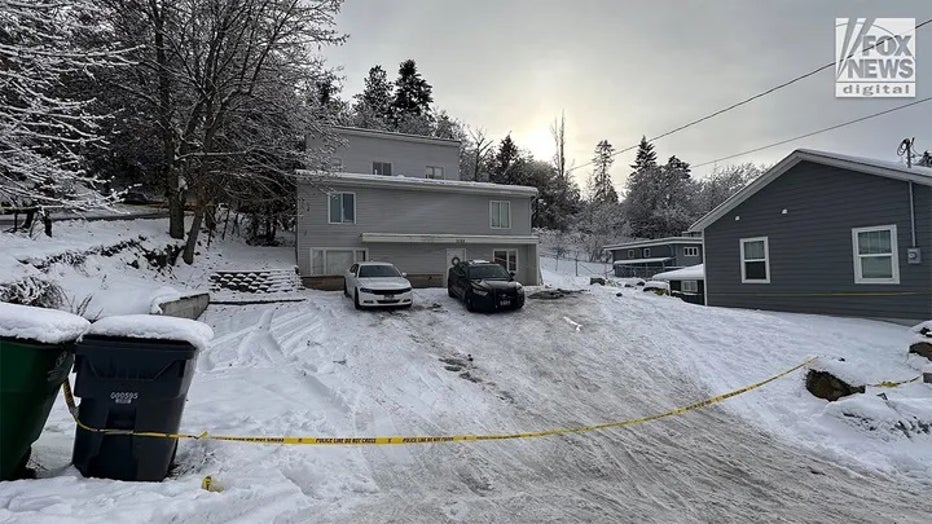 Front view of the house where four Idaho students were killed in November 2022. It is just steps away from the University of Idaho campus. (Adam Sabes/Fox News Digital)
Chapin and Kernodle were at the Sigma Chi fraternity house a short walk away and returned to Kernodle's house around 1:45 a.m., police said.
Two other roommates who live in the home were also out that evening, but returned home by 1 a.m., police said. They didn't wake up until later that morning.
After they woke up, they called friends to come to the house because they believed one of the victims found on the second floor had passed out and wasn't waking up. At 11:58 a.m., someone inside the home called 911. Multiple people talked with the dispatcher before police arrived.
Police found two of the victims on the second floor of the three-story home, and two on the third floor. A dog was also at the home, unharmed.
READ MORE: Students: Idaho murders suspect continued to serve as teacher's assistant after alleged crime
Autopsies showed the four were all likely asleep when they were attacked, some had defensive wounds and each was stabbed multiple times. There was no sign of sexual assault.
Community response
The killings left the close-knit community of Moscow frightened, and nearly half of University of Idaho students temporarily switched to remote learning and left the scenic campus for their hometowns.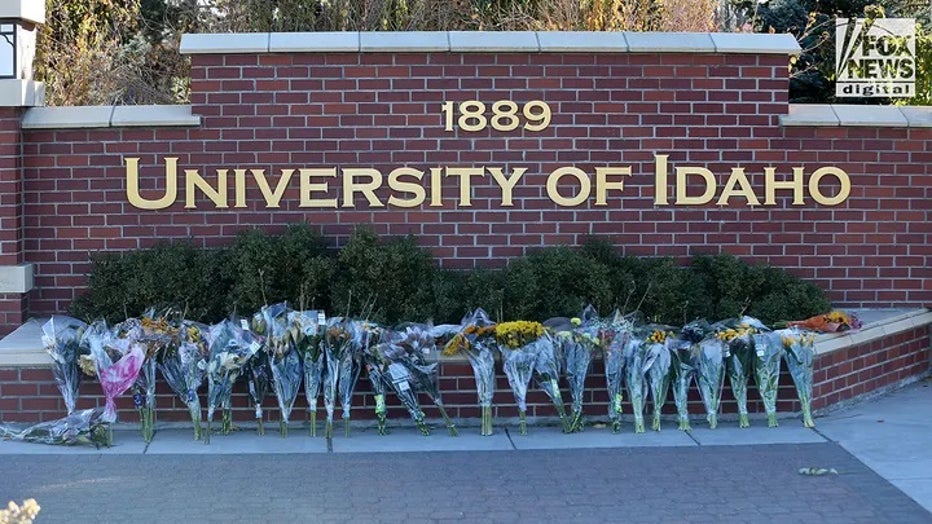 Flowers at an improvised memorial at the University of Idaho in Moscow, Idaho Monday, November 21, 2022, for four of its students who were slain on November 13. (Derek Shook for Fox News Digital) 
Meanwhile, the university increased security staff on campus, boosted mental health support for students, reminded students about available self-defense classes and helped distribute personal safety alarm devices.
What happens next? 
Now that Kohberger is in Idaho, he will appear in Latah County Magistrate Court to hear the charges against him — four counts of first-degree murder and one count of burglary. Idaho court officials have not said exactly when that first appearance will be scheduled, but it could occur Thursday. Kohberger won't have an opportunity to enter a plea until a later date.
Bryan Christopher Kohberger arrives at the Monroe County Courthouse in Stroudsburg, Pennsylvania, on Jan. 3. (Credit: FOX News Digital)
Documents filed in the criminal case have been sealed so far as required under Idaho's public record law. Those documents are expected to be unsealed once Kohberger arrives in court if not sooner, potentially providing a basic outline of Latah County Prosecutor Bill Thompson's case.
Neither Thompson, the investigators nor Kohberger's defense attorney will be able to talk about the case, however. That's because Latah County Magistrate Judge Megan Marshall on Tuesday issued a gag order.
The order prohibits any of the parties in the case from talking about anything "reasonably likely to interfere with a fair trial." That includes details about any evidence, the existence of any confessions or other statements given by the defendant, or the merits of the case.