Groundbreaking AI implants help stroke victim 'talk' for first time in nearly two decades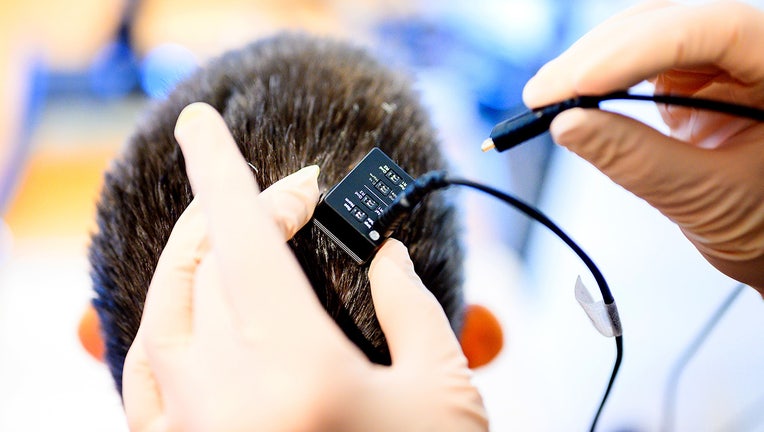 article
A woman who was left unable to speak following a stroke just regained her voice, thanks to artificial intelligence. 
AI WILL FORCE BILLIONS OF WORKERS WORLDWISE TO MASTER NEW SKILLS AS TECH REVOLUTION HEATS UP: STUDY
Researchers at the University of California were able to implant a small panel of electrode implants into 48-year-old Ann Johnson's brain, enabling her to "talk" for the first time in 18 years. Scientists sampled Johnson's voice from a video of her speaking at her wedding in order to model her vocal tone and inflections and allow for optimally natural communication. 

"The [University of California] team then trained the A.I. algorithm to detect her brain signals," FOX Business' Lauren Simonetti told 'Varney & Co,' Thursday. "They learned 39 distinctive sounds and a ChatGPT-style model was used to translate those sounds into sentences."

"They then made an avatar that looked like her with a voice personalized to what she sounded like before the stroke," Simonetti added.
In 2005, Johnson suffered a brain stem stroke that tragically terminated her ability to speak. Before the accident, Johnson was a high school math teacher and coached multiple athletic teams in Saskatchewan, Canada.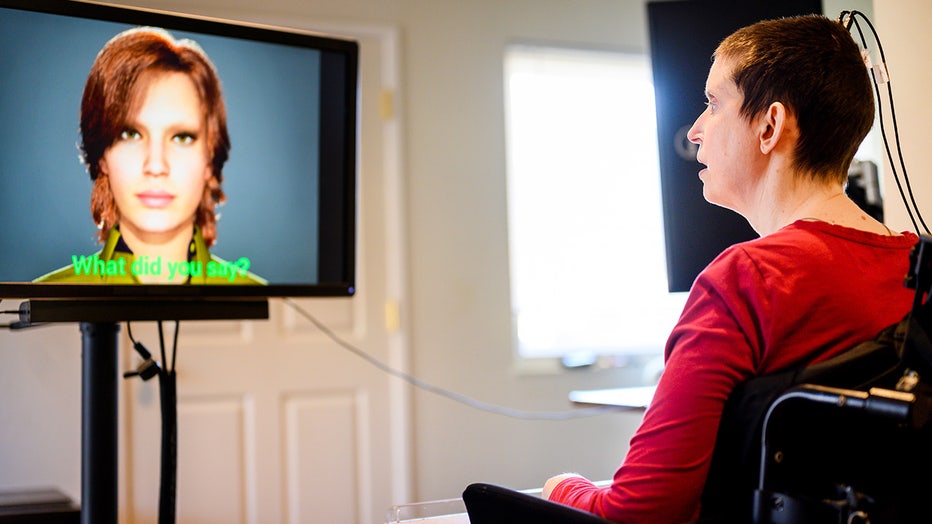 FILE - Ann participating in the study. (UCSF)
Following years of grueling rehabilitation, Johnson regained her ability to make small movements and evoke facial expressions, and worked from using a feeding tube to independently consuming soft or chopped foods. 
AI GAME-CHANGER MAKES LEAPS TOWARD FUTURE BY DETECTING DENTAL DISEASES EARLIER THAN EVER: 'CUTTING EDGE'
Now, Johnson can talk.

Despite the fact that the algorithm can choose the incorrect word up to 28% of the time, according to Simonetti, Johnson has made monumental strides toward rehabilitation with the help of artificial intelligence.

"What a huge step forward in helping, in this case, to restore speech…it's endless where we can go from here," Simonetti told host Stuart Varney. 
As the artificial intelligence train barrels on with no signs of slowing down — some studies have even predicted that AI will grow by more than 37% per year between now and 2030 — the World Health Organization (WHO) has issued an advisory calling for "safe and ethical AI for health."

Despite its controversial reception by the mainstream media, artificial intelligence has been ruled as an asset by a majority of the medical community. 
Several hospitals, including the Mayo Clinic, have begun test-driving Google's Med-PaLM 2, an AI chatbot that is widely expected to shake up the healthcare industry. 
GET FOX BUSINESS ON THE GO BY CLICKING HERE
It remains unclear when the program will be adopted more widely by hospitals and medical research institutions. A senior researcher who worked on the project was quoted as saying the company is still in the early stages of developing the product. 
As artificial intelligence continues to elicit more promising medical advancements, researchers around the world can continue to utilize the seemingly endless benefits of A.I.
FOX Business' Bradford Betz and Timothy H.J. Nerozzi contributed to this report.