Garcetti announces free COVID-19 testing for construction workers, deal with Honeywell to purchase 24M N95 masks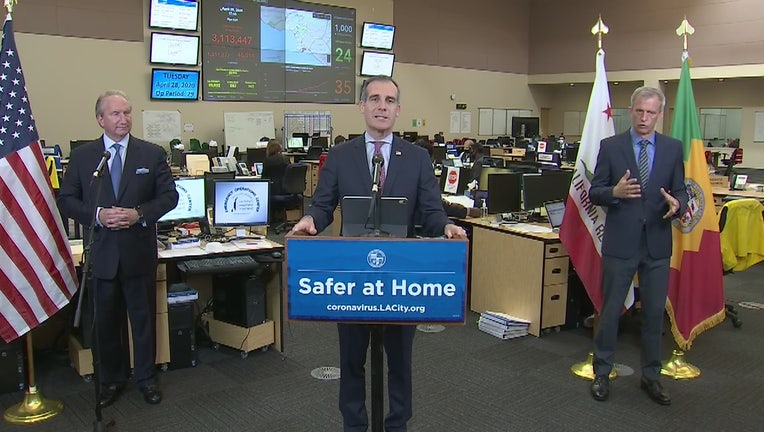 article
LOS ANGELES - Mayor Eric Garcetti announced in his Tuesday briefing from the city's Emergency Operations Center that free COVID-19 testing offered through the city will be expanded on Wednesday to include construction workers, regardless of whether they are showing any symptoms.
The mayor thanked construction workers for their help during this critical time, saying that many of them "have been keeping up with critical infrastructure projects, helping us build housing and keeping people getting a paycheck in these tough times, at a safe distance."
RELATED: Mayor Garcetti expands free COVID-19 testing to people in transportation services, media even if asymptomatic
Last week appointments were first offered to essential workers without symptoms last, but Garcetti says those suffering from symptoms will still get top priority.
Please visit: coronavirus.lacity.org/testing to view availability
The list of workers who qualify for asymptomatic testing also include: rideshare, public transportation, taxi drivers, and journalists (as of Tuesday) healthcare workers, first responders critical government personnel, grocery workers, and anyone who works or lives in a nursing home.
Get breaking news alerts in the FOX 11 News app. Download for iOS or Android.
Garcetti also announced that the city had signed a contract with manufacturer Honeywell to purchase 24 million N95 masks that would be sold at-cost to area hospitals and first responders in need.
The first 100,000 masks would be delivered by May, with another 500,000 in June.
Gene Seroka the executive director of the Port of L.A. and the city's chief logistics officer during the COVID-19 emergency, said the partnership will create domestic production and jobs.
"Our ability here now to bring on these masks in the schedule that we've just outlined is helpful," Seroka said. "It's not going to complete all the work, but it's a starting point for us, and we'll continue to work to procure more product and get it out there," Seroka said.
RELATED: Stay up to date on all coronavirus-related information
Garcetti announced with this program that 65,000 non-medical-grade masks have been distributed to outreach workers and homeless people on Skid Row to help prevent the spread of COVID-19.
Mayor Garcetti also said the city has partnered with the county and its BankOn initiative to help people who don't have a bank account open one-- or a credit union account -- to receive their federal stimulus check.
Information is available at coronavirus.lacity.org/banking.
CNS comtributed to this story