Mayor Garcetti expands free COVID-19 testing to people in transportation services, media even if asymptomatic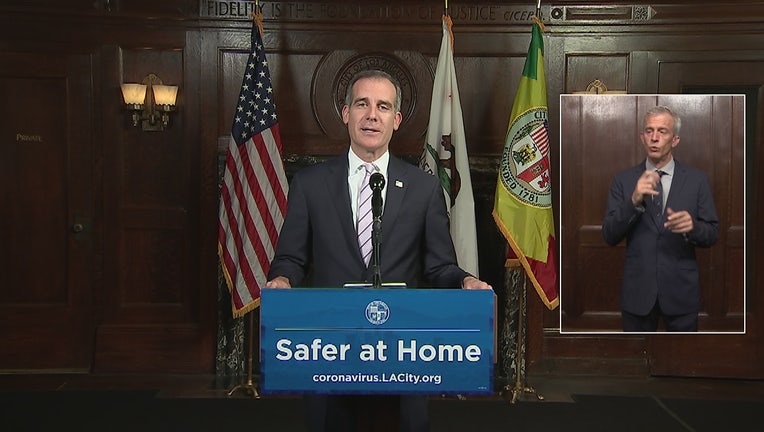 article
LOS ANGELES - LA Mayor Eric Garcetti announced during his daily briefing that starting on Tuesday workers in transportation, grocery store workers, ride-hailing service drivers, and those who work in media will be able to apply for a free COVID-19 test through the city's testing portal, even if they do not show symptoms.
"Every death is a deep deep tragedy," Garcetti said.
And urged Angelenos "to keep your physical distance and keep washing your hands we can't let up," he said.
Garcetti also announced the second phase of the city's Senior Meal Emergency Response program, now with access to funding from the state and the Federal Emergency Management Agency.
Get breaking news alerts in the FOX 11 News app. Download for iOS or Android.
This program will provide free meals to seniors and will employ workers in the hospitality and restaurant industries who have been laid-off during the crisis.
"Starting tomorrow, we're expanding COVID-19 testing to include our partners in transportation including delivery drivers, rideshare drivers, and taxi drivers who can get tested even if they are asymptomatic. To make an appointment, visit http://Coronavirus.LACity.org/Testing," Garcetti said.
RELATED: Stay up to date on all coronavirus-related information
Garcetti said Monday that he was in 'awe' by everyone who continued to stay home throughout the weekend heatwave.
Last week the mayor reminded Angelenos to stay home during the heatwave, reminding residents that all city and county beaches, trails were closed. L.A. beaches appeared to remain empty throughout the weekend, while thousands gathered at neighboring Orange County beaches.