First San Fernando Valley bridge home site opens with Alex Trebek's support
NORTH HOLLYWOOD, Calif. - The first A Bridge Home shelter in the San Fernando Valley, which opened today in North Hollywood with the support of "Jeopardy!'' host Alex Trebek, has 85 beds for homeless people to help them transition to permanent supportive housing.
Mayor Eric Garcetti and City Councilman Paul Krekorian were joined by the longtime "Jeopardy!'' host, who discussed why he and his wife, Jean,
decided to invest in the development of the Raymer Bridge Home site at 13160
Raymer St.
"We feel it is incumbent upon people like us ... to start putting back into the system to help those who are less fortunate because when you do that, you help unify the community, the society,'' Trebek said.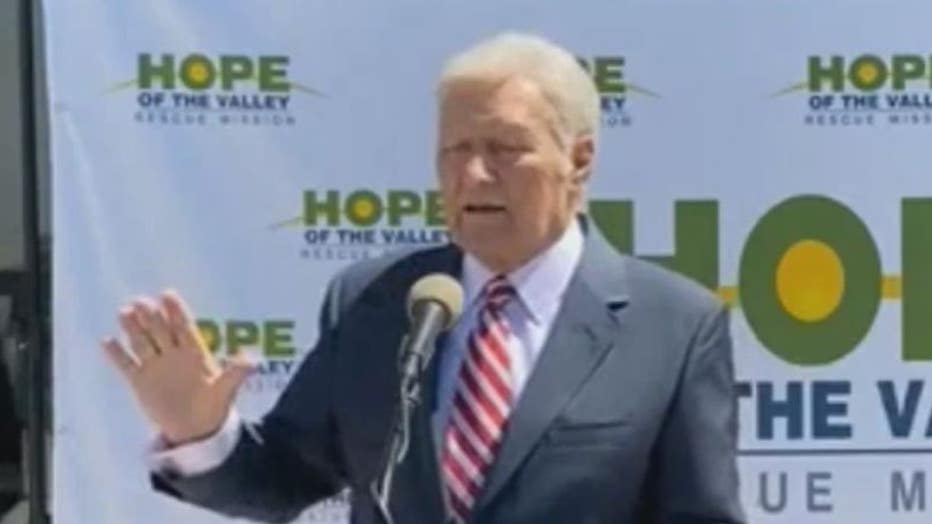 The Raymer Bridge Home site is 15,000 square feet and was converted into a shelter from an old warehouse.
"This site will be life-changing to every person who comes through these doors,'' Krekorian said, adding that all the 85 people who were sheltered Thursday had been living on the streets in the surrounding neighborhood.
Los Angeles plans to add five more Bridge Home shelters in the Valley by early fall, Garcetti said, with the goal having 30 completed throughout the city at the end of the year.
"If we're going to envision a day in which we don't accept the tents on the street are acceptable, it begins with every community standing up and stepping forward ... to say `yes in my backyard,'' he said.
The Raymer Bridge Home facility will be staffed by the Hope of the Valley Rescue Mission, which will provide food, small cubicles for private bedrooms, job training, case management, housing navigation, mental health services, "spiritual formation,'' substance abuse counseling and more, according to the city's website on the project.
Thousands of people who are homeless are currently being temporarily
housed in hotel and motel rooms through the county's Project Roomkey, in Bridge Home facilities and at some of the city's recreation centers so they can safely shelter during the COVID-19.