Firefighters contain 60 acre brush fire burning near Sepulveda Basin
LOS ANGELES - Crews battled a fast-moving brush fire that broke out at the Sepulveda Basin in the 5600 block of N. Woodley Avenue Thursday afternoon.
The fire burned approximately 60 acres before crews got the upper hand and stopped the fire in its tracks, according to the Los Angeles Fire Department. It's 80% contained.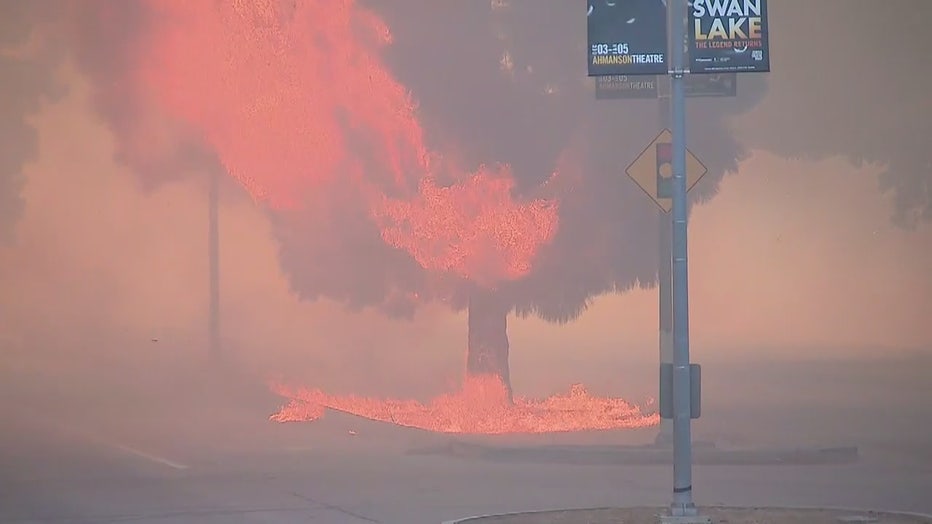 The Sepulveda Fire broke out near the intersection of Burbank Boulevard and Woodley Avenue and continued burning southwest, according to the Los Angeles Fire Department.
It was not immediately known if structures were threatened but fire officials advised residents that live nearby to gather essentials and leave if they feel unsafe. No evacuation orders have been given at this time, LAFD said.
"Residents of Sherman Oaks and Encino: Gather essential documents, food/water, and position vehicles for swift exit, should the need arise," said LAFD in a statement.
Fire officials said the homeless were evacuated south to the 101 Freeway.
ROAD CLOSURES
• Northbound and Southbound 405 Burbank Boulevard On and Off ramps closed.
• Burbank Boulevard closed both directions between Woodley and Sepulveda.
The southbound 405 Freeway to Victory Boulevard was temporarily closed but reopened as of 6:50 p.m., according to the California Highway Patrol.
SCHOOL CANCELLATIONS
• All L.A. County Unified School District schools in the San Fernando Valley will be closed on Friday, Oct. 25 due to air-quality and safety concerns from the Sepulveda Fire, said officials.
• Community, Roscomare, Topanga, Valley View, Wonderland and Elementary ES will also be closed.
-------------------
Heavy smoke from the Sepulveda Fire quickly engulfed the area as firefighters continued an aerial attack to douse the flames and slow the progress of the fire. Approximately 128 firefighters are working to contain this fire.
LAFD dozers cut very effective fire lines that stopped the flames in their tracks, the L.A. Fire Department said. Ground and air crews made aggressive attacks to keep the fire from damaging any buildings.
No injuries have been reported.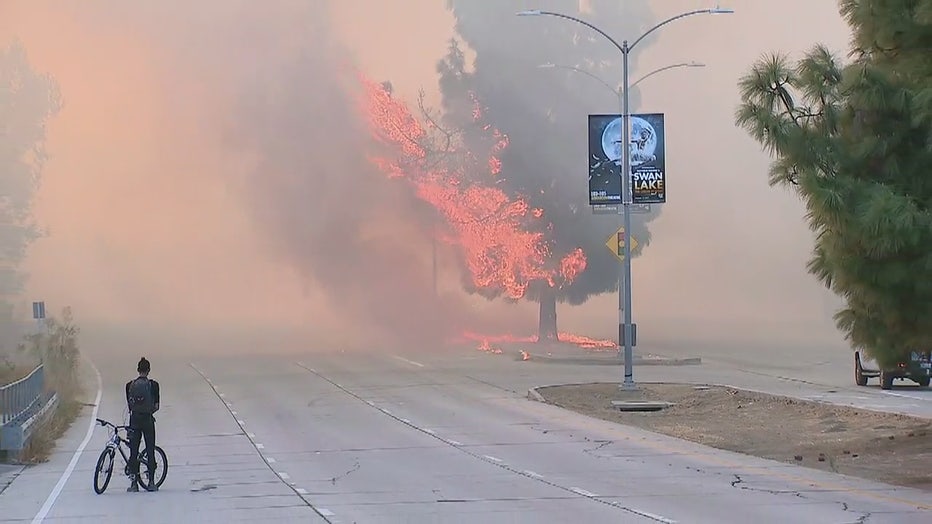 Crews will remain on scene through the night to locate and mop up any remaining hot spots and ensure containment lines hold as extreme fire weather conditions are expected to return Thursday night into Friday.
The cause of the Sepulveda Fire is under investigation.
For more information on preparing for a wildfire, visit https://www.lafd.org/safety/education/ready-set-go