FDA issues warning over several eyedrop products due to infection risk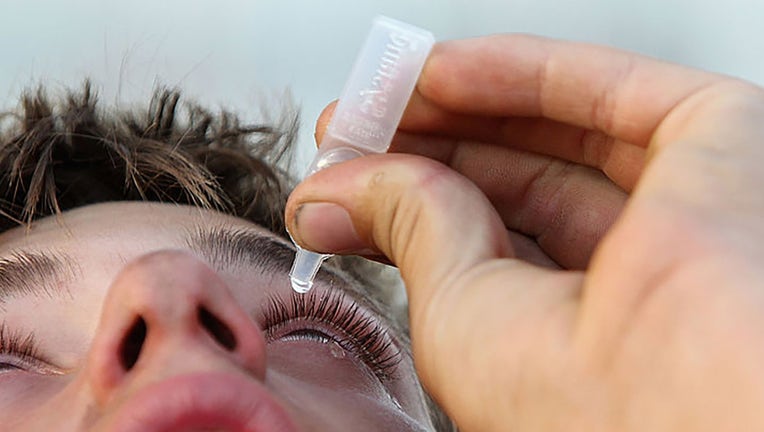 article
WASHINGTON - U.S. health officials issued an urgent warning to consumers to stop using 26 over-the-counter eye drop products over the potential risk of eye infections that could lead to vision loss.
The U.S. Food and Drug Administration on Friday issued an alert for 26 products marketed under the following brands: CVS Health, Leader (Cardinal Health), Rugby (Cardinal Health),Rite Aid, Target Up&Up, and Velocity Pharma.
RELATED: CVS and Walgreens employees planning a walkout to protest working conditions
The agency said it recommended the manufacturer to recall these products on Oct. 25 after investigators found insanitary conditions in the facility, as well as positive bacterial test results from "critical drug production areas" in the facility. 
CVS, Rite Aid and Target are removing the products from their store shelves and websites, the FDA said, but products branded as Leader, Rugby and Velocity "may still be available to purchase in stores and online and should not be purchased."
Click here for a full list of the recalled products.
The FDA's warning comes after other eyedrop product recalls earlier this year linked to drug-resistant bacteria. In August, the regulatory agency urged consumers to stop using certain products from Dr. Berne's Whole Health Products after testing showed the product was contaminated with bacteria and fungi. 
Meanwhile, the FDA and U.S. Centers for Disease Control and Prevention have also warned this year of an outbreak of infections tied to the use of Global Pharma Healthcare's recalled eyedrops.
The recalled products include EzriCare Artificial Tears, Delsam Pharma Artificial Tears, and Delsam Pharma Artificial Ointment, according to the agencies.
An "extensively drug-resistant" bacteria strain, called Pseudomonas aeruginosa, was found in 81 people across 18 states with four deaths reported, the CDC said in May. 
RELATED: CDC issues alert over high RSV vaccine demand
This story was reported from Cincinnati.