Family desperately searching for Carson teen missing since New Year's Day
CARSON, Calif. - Friends and relatives of a 16-year-old girl who disappeared from her family's Carson home on New Year's Day made a plea to the public Friday for information on her whereabouts, saying they fear she is a victim of human trafficking.
According to her family, Alinka Angeline Castaneda was last seen outside the home in the 23000 block of South Caroldale Avenue around 5 a.m. Jan. 1.
At a news conference Friday, the family and investigator Moses Castillo -- a former police detective helping with the search -- released footage from a Ring camera showing an unknown male approaching Alinka that morning just before she disappeared.
"Maybe she came out to wish somebody a happy new year, give them a happy new year hug, and then something went sideways from there," Castillo said. "I don't know."
The teen hasn't been seen since. The family says she disappeared without her cell phone or any other possessions.
"All of her belongings are here, clothes, wallet, backpack, cellphone. So I guess that's why it's a little alarming because it seemed like she wasn't planning on leaving," said her brother Alan Torino.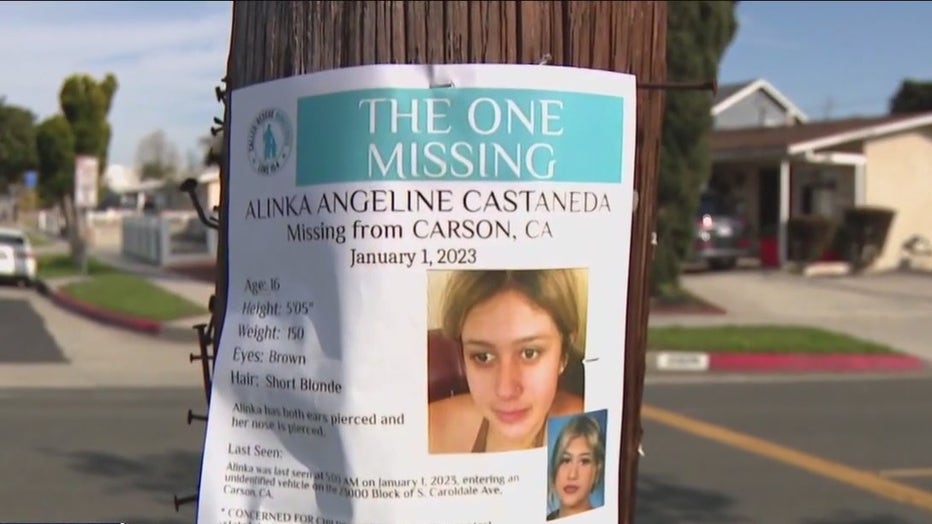 According to the family, the teen called two weeks later and spoke to her younger sister -- a call that authorities traced to the Venice area.
"The sister said Alinka sounded scared in her voice, and that she didn't know where she was, but said that they (won't) let her go," Castillo said.
In late February, the teen called again, saying she was at Union Station and would be home that night, but she never arrived.
"Whoever has her, please, please let her come home," family friend Avelina Medina told reporters.
Castillo said the family fears their daughter is being held against her will, possibly by gang members who are trafficking her.
"Where are you going to get fed, showered, all the stuff you need to live day-to-day," Castillo said. "Someone must be doing it, and it has all the makings of someone that's being forced into human trafficking."
Alinka is described as 5-foot-5, weighing 150 pounds with brown eyes and short blonde hair. She has both ears and her nose pierced.
Anyone with information on her whereabouts was urged to call the sheriff's department at 310-847-8362.