Everyday Heroes: Firefighters meet with nurses, doctors after recovering from battling massive DTLA blaze
WEST HILLS, Calif. - Firefighters will be the first to tell you they don't like to be referred to as 'heroes.' It is a sometimes overused term. 
They know that the job of a firefighter, as their Chief Ralph Terrazas said on Wednesday it is 'inherently dangerous,' as is any first responder.  
They do the job they signed up for, knowing that there are no guarantees that they'll be going home at the end of their shift. 
RELATED: Heroes treating heroes: County USC surgeon describes treating injured firefighters after massive DTLA blaze
That's why they are carefully vetted, selected, and trained. 
The night of May 16 started out like any other in the busy Station 9 on the edges of the horrible section of downtown LA known as 'skid row'.   
The call was to a fire in a warehouse on 3rd, later we learned to house a business specializing in  'vaping' products.  
The fire was intense, but not anything that the crew couldn't handle, initially. 
Then, it all changed in an instant, with an explosion and  the frightening radio call later replayed over and over again on the news, ''Mayday Mayday… two firefighters down."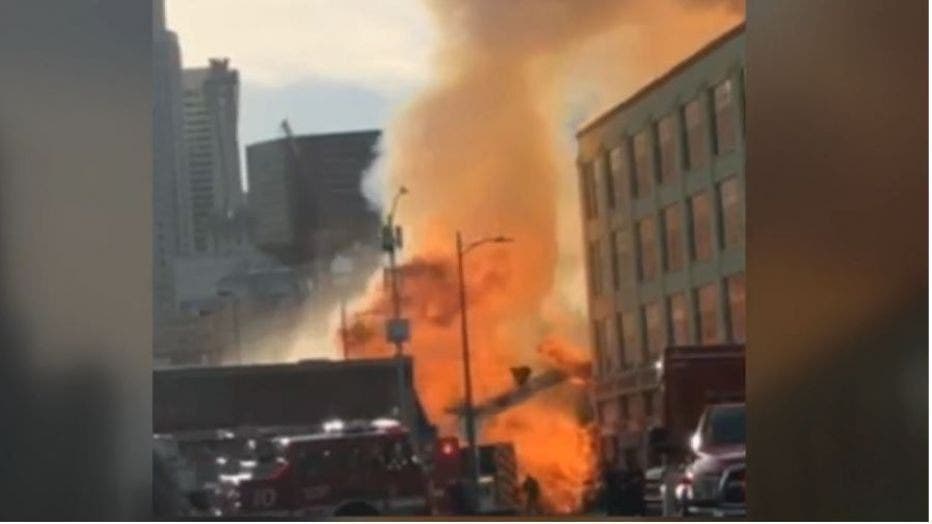 In fact, there would be 11 firefighters hospitalized that night, several of them escaping right through a massive fireball that erupted from the inside the building, covering their ladder, their escape route, with flame, and left them no choice but to go right through it, which they did. 
Everyone who saw it just couldn't believe people survived that, but they did, thanks to proper ''turnout gear'' as it's called, the protective gear the city has invested in, their training, and of course the courage to rise to the moment. 
Today, an emotional afternoon at West Hills Hospital and the Grossman Burn Center, gave the firefighters who lived through that ordeal and opportunity to talk with the news media about what that was like, and before that, to be thanked by the mayor, city council members, and the fire chief.  
I was happy they were there to share their stories but not nearly as happy as they were to be able to talk about it.   
All plan to go back to work as soon as they can.
Get breaking news alerts in the FOX 11 News app. Download for iOS or Android.