Heroes treating heroes: County USC surgeon describes treating injured firefighters after massive DTLA blaze
LOS ANGELES - At County USC Medical Center it was all hands on deck on May 16 when eleven LA City firefighters were rushed in after they were injured in a fiery explosion.
Images of the firefighters running to escape the fireball at a Little Tokyo business were horrifying. The injuries ranged from moderate to critical and triggered a May Day call.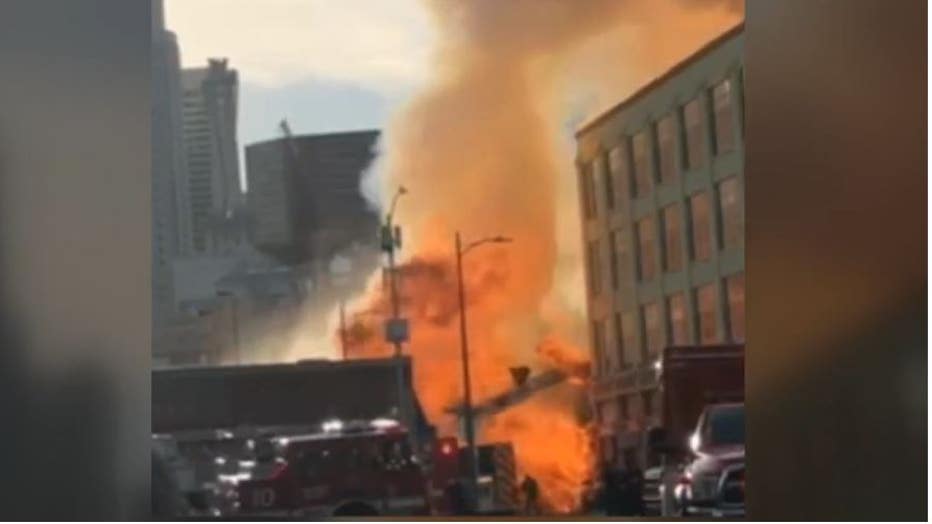 Black smoke could be seen throughout the basin.
Across the city, a physician and his young family were enjoying some leisure time at a park in Santa Monica. Dr. Justin Gillenwater said moments after the massive fire, a colleague who lives in downtown LA began sending him video on his cell of the fire erupting at "Small Tokes Wholesale Distributor."
Gillenwater heads up the Southern California Regional Burn Center at County USC he abruptly ended his day at the park and rushed to work.
Get breaking news alerts in the FOX 11 News app. Download for iOS or Android.
With sirens blaring the injured firefighters were immediately taken to the Emergency Department of the hospital.
RELATED: Witness is amazed firefighters survived DTLA fire
The following is an exclusive account as told to FOX 11 by Dr. Justin Gillenwater. According to Gillenwater, the injured firefighters were examined and stabilized by his ER colleagues.
The firefighters with more serious injuries were sent " upstairs" to the Burn Unit within the Level One Trauma Center. By the time he examined them their firefighting uniforms had already been removed, IV's in place. He and about half dozen nurses and doctors went to work.
He described the scene as " organized chaos" and a well-choreographed dance where each medical professional had an essential role. The wounds had to be cleaned, but before that painful procedure began, sedation administered.
Ventilators helped those firemen who were laboring to breathe after inhaling hot, toxic air. This team effort went on for hours.
County USC has the only level one trauma unit in LA County. Gillenwater said for that reason, the hospital was the best equipped to handle an emergency of this scope. He described a frenetic pace to save these first responders who give their all to keep the city safe.
At one point, scanning the room and realizing his team was doing everything humanly possible to help the injured he thought "We GOT this. We now  know how to do this."
The young doctor would not leave the hospital until 1 a.m. the following morning, now confident his patients were out of the woods.
Since my story aired most of the injured firefighters have been released from the hospital.
LA City Fire has declined to give much information about their conditions citing confidentiality issues.
We will keep you posted.