End of an Era: Hollywood's Amoeba Music to remain closed until fall relocation due to COVID-19 crisis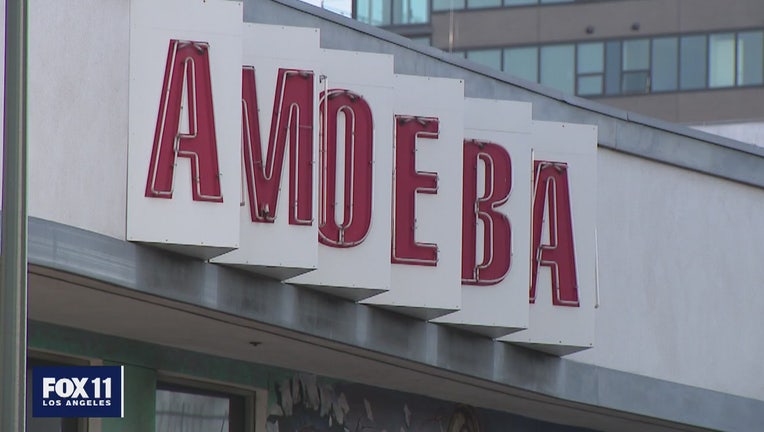 article
LOS ANGELES - Hollywood staple Amoeba Music announced with "a very heavy heart," Monday that they will be forced to remain closed until they relocate, citing being heavily impacted by the COVID-19 pandemic.
In a tweet, Amoeba Music said:
"It is with a very heavy heart that we must announce that the massive impact from COVID-19 has forced Amoeba Hollywood to remain closed until we move to our new location this fall.
We are devastated. We know you are too."
The iconic structure which lights up 6400 Sunset Boulevard will be a thing of the past, as the record store moves to 6200 Hollywood Blvd.
The Los Angeles City Council voted in favor to replace the current site of Amoeba Music in Hollywood with a new 26-story development last June. 
"This is heartbreaking for us. We never envisioned not being able to give the store the send-off it deserves, to give you all a chance to say goodbye. We had so many events planned to celebrate our history at 6400 Sunset! But we are facing too many mitigating circumstances that simply won't allow for it."
RELATED:
• Amoeba Music struggling to stay afloat during COVID-19 crisis
• Amoeba Music announces new location in Hollywood
The record store started a GoFundMe with efforts to survive. They raised $215,285 of its $400,000 goal.
They also outlined three factors that were key in their decision in a statement released Monday:
"1) A consortium of Governors, including California, has stated that the most likely businesses to open first upon the lifting of 'safer at home' orders (which are still undetermined, but won't be soon) will be those that are deemed "essential" followed by "low risk" sites. While, of course, we all know music is "essential," we respect that under the current circumstances music retail is not. Our store sees over a million customers each year, making us a higher-risk environment during this pandemic than most. Thus, it is increasingly clear to us that it is highly unlikely we will be allowed to open this summer.

2) In the improbable event that we were able to open at some point this summer, we would be asking a staff of 200+ to come into a very public-facing environment, where customer interactions are frequent (even with far fewer customers), and handling shared product in a shared space is the nature of the business. We don't want to put the staff or our customers potentially at risk and sitting out the summer allows us to ensure everyone's health and safety.

3) With our energy focused on the new store, we are hopeful we can get open earlier than originally expected. We will have more time and resources available to manage this move and get the new Amoeba ready for prime time before our initial projections, and hopefully in line with a return to some degree of "normalcy" within our community. We will also return our focus over the summer to getting Amoeba.com updated with more used and collectible pieces to serve as a bridge to the new store opening."
Amoeba thanked patrons for the years of support.
They also have locations in San Francisco and Berkeley, which are both temporarily closed due to the coronavirus crisis. 
Get breaking news alerts in the FOX 11 News app. Download for iOS or Android.