El Segundo All-Stars avoid LLWS elimination with 9-3 win over Rhode Island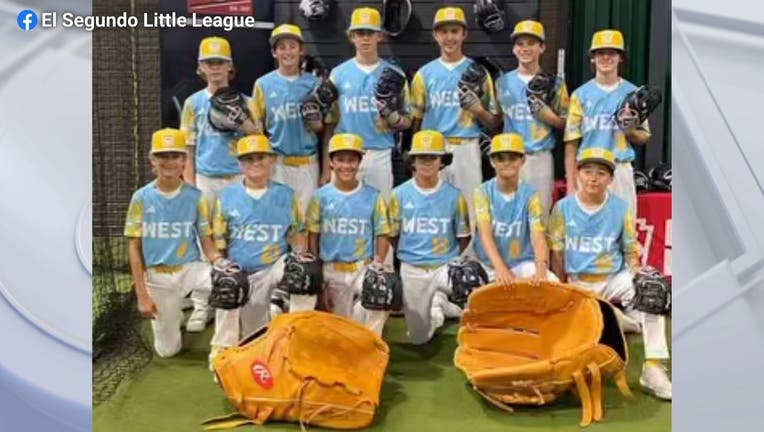 article
EL SEGUNDO, Calif. - The all-star team from El Segundo avoided elimination in the Little League World Series Tuesday with a 9-3 victory over its counterpart from the Smithfield (Rhode Island) Little League in South Williamsport, Pennsylvania.
Louis Lappe and Max Baker limited Smithfield to one hit over the first five innings of the six-inning game, and Brody Brooks and Lucas Keldorf each had two RBIs and two hits in the elimination-bracket game at Howard J. Lamade Stadium.
El Segundo, the West Region champion, will next play Wednesday, facing the all-star team from the Nolensville (Tennessee) Little League, the Southeast Region champion. The 4 p.m. PT game will be televised by ESPN.
SUGGESTED: Did Dodger Stadium flood? Viral photo from Tropical Storm Hilary debunked
El Segundo will need to win Wednesday and Thursday to reach Saturday's U.S. championship game. The U.S. champion will face the international champion for the world championship Sunday.
El Segundo is among four teams remaining in contention for the U.S. championship from the original field of 10.
With El Segundo batting as the visiting team, Brooks led off the first inning with a single, moved to second on a wild pitch and to third on a passed ball. After Lappe struck out, Connor Curtis' first pitch to the third batter, Jaxon Kalish, was a wild pitch, with Brooks scoring. Kalish moved to second and then to third on wild pitches, and scored one out later on Baker's infield hit.
PREVIOUS COVERAGE: El Segundo loses 3-1 to a Texas team in Little League World Series
El Segundo scored twice on the same play in the second inning on a wild pitch. The team then combined a hit batter, singles by Lappe and Keldorf and an error for three runs in the third. Brooks hit a two-run homer in the fifth.
El Segundo's bid for a shutout ended with two outs in the sixth on Curtis' single, which drove in John Wozniak, who had reached on an error. Brayden Castellone tripled in Connor Queenan, who reached on a fielder's choice, and Curtis.
Lappe, the El Segundo starter, allowed one hits in 3 2/3 innings, striking out nine and walking two and was credited with the victory. Baker struck out three, walked one and allowed one hit in 1 1/3 innings. Colby Lee struck out two and allowed two runs and two hits in one inning.
Curtis, the first of three Smithfield pitchers, was charged with the loss, allowing four runs, two earned, and four hits in two innings, striking out five and throwing five wild pitches.
El Segundo out-hit Smithfield, the Metro Region champion, 9-4.
El Segundo had been relegated to the elimination bracket of the modified double-elimination tournament with a 3-1 loss to the all-star team from the Needville (Texas) Little League on Monday.