El Segundo All-Star team heads to Little League World Series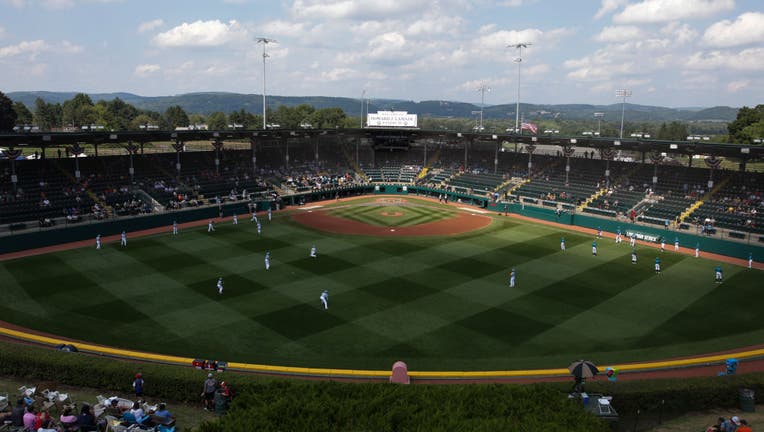 article
EL SEGUNDO, Calif. - The all-star team from El Segundo will begin play in the Little League World Series on Thursday, the second team from Los Angeles County to advance to the event in South Williamsport, Pennsylvania, since 1994.
El Segundo qualified for the World Series by defeating the all-star team from the San Ramon-based Bollinger Canyon Little League, 3-1, in the championship game of the West Region Tournament on Friday night at Al Houghton Stadium in San Bernardino, scoring all its runs in the first inning.
Each of El Segundo's first four batters reached base. Brody Brooks doubled, went to third on Louis Lappe's single and scored on a wild pitch. Lucas Keldorf doubled in Lappe and Jaxon Kalish, who walked.
SUGGESTED: 'Fernandomania' Forever: Dodgers to retire No. 34 for Fernando Valenzuela
Lappe, the starter for El Segundo, limited Bollinger Canyon, the Northern California champion, to five hits and a fourth-inning run over 5 2/3 innings, striking out eight and walking one before having to be replaced because of the 85-pitch limit.
Kalish retired the only batter he faced, Mikey Wong, on a fly out to end the six-inning game and was credited with a save.
El Segundo will face the all-star team from the New Albany (Ohio) Little League, the Great Lakes Region champion, Thursday in the modified double- elimination tournament.
El Segundo is 14-1 in four tournaments this summer. It lost to the all- star team from the Sherman Oaks Little League, 4-3, in the opening game of the championship series of the Southern California State Tournament July 31, then won the rematch, 3-2, later that day.
SUGGESTED: Shohei Ohtani becomes first to hit 40 HRs, get 10th win as pitcher in single season
El Segundo is the first Los Angeles County team to win the West Region Tournament since 1994, when the all-star team from the Northridge Little League won and went on to win the U.S. championship with a team including future USC and NFL quarterback Matt Cassel.
One other team from Los Angeles County has qualified for the Little League World Series over that span. The all-star team from the Torrance Little League qualified for the Little League World Series in 2021 when the series was limited to U.S. teams because of the coronavirus and each of the top two teams from the eight U.S. regions advanced to the World Series instead of just the champion.
Los Angeles County teams have won the Little League World Series three times. The all-star team from the Granada Hills National Little League won in 1963 and teams from the Long Beach Little League won in 1992 and 1993.