LA County Supervisors declare Tuesday 'Edward James Olmos Day'
LOS ANGELES (CNS) - The Los Angeles County Board of Supervisors Tuesday declared "Edward James Olmos Day" in the county, honoring the actor best known for his Oscar-nominated role in "Stand and Deliver" and in the crime series "Miami Vice."
"Edward James Olmos has achieved extraordinary success as an actor, director, and producer," Supervisor Hilda Solis, who authored the motion, said in a statement. "He is a local legend whose talent has brought him attention worldwide but it is also his work as a devoted humanitarian that has captivated the hearts of many. It is my honor to move forward this proclamation during Hispanic Heritage Month so that Latinos everywhere can celebrate his contributions to our community."
Olmos was not present at the Hall of Administration when the board unanimously approved the motion.
Born in 1947 in East Los Angeles, Olmos graduated from Montebello High School in 1964 and earned a degree in sociology and criminal justice at East Los Angeles College.
But acting became his passion, as he appeared in a series of Southland stage productions and making guest appearances on TV shows such as "Kojak," "Police Woman," "Starsky and Hutch" and "Hawaii Five-O." He scored a Tony nomination for his role as El Pachuco in the Broadway production of "Zoot Suit." Olmos reprised that role in a film of the same name in 1981.
SUGGESTED: Edward James Olmos slams Television Academy for overlooking Latinx actors for Emmy nominations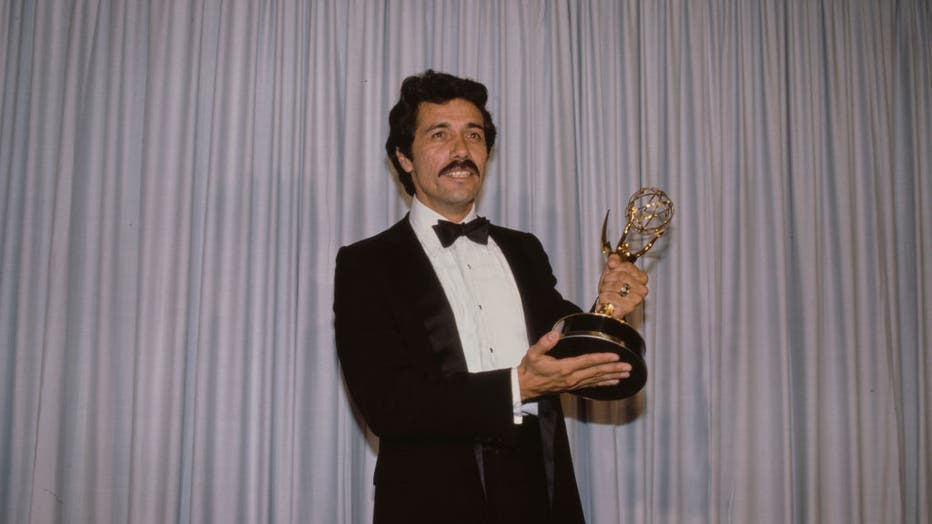 American actor Edward James Olmos in the 37th Annual Primetime Emmy Awards press room, at the Pasadena Civic Auditorium in Pasadena, California, 22nd September 1985. Olmos is holding his award for 'Outstanding Supporting Actor in a Drama Series', rec (Getty Images)
More TV and movie roles followed, but Olmos struck it big with the 1988 film "Stand and Deliver," portraying Garfield High School math teacher Jaime Escalante, a role that earned him an Oscar nomination. Concurrently, he was a fixture in many American homes for his role as Lt. Martin Castillo in "Miami Vice," for which he won a supporting-actor Emmy.
He made dozens of film and TV appearances in the years since, including films such as "Selena" and "Blade Runner," his regular roles in "Battlestar Galactica" and "Mayans M.C."
Olmos is also noted for his community work and activism on behalf of the Latino community. He co-founded the Los Angeles Latino International Film Festival and founded Latino Public Broadcasting.