Duo walks 40 miles across all of LA in one day
LOS ANGELES - Los Angeles isn't typically known as a very pedestrian-friendly city, but that didn't stop two friends from spending an entire day walking approximately 40 miles from one end of the city to the other.
Tucker O'Neill shared the journey on the Los Angeles subreddit last week. In his post, he said he was inspired by another brave Angeleno, who made a 50-mile, 18-hour trek from Pasadena to Torrance "for no reason," in February 2022. O'Neill and his friend Wes Brumbaugh spent a recent weekend day walking from Pasadena City Hall all the way to the Santa Monica Pier. 
In his post, O'Neill said the goal of the tip was "to hit as many destinations as possible and see a diverse set of neighborhoods." He and Brumbaugh shared more about their journey in a recent interview with Marla Tellez during the FOX 11 News at 6 p.m. 
"I moved to LA a couple of years ago, and I found myself frustrated with how hard it was to get around the city," O'Neill said. "I used to live in cities that were a little more pedestrian-friendly and a little bit smaller, so I liked the idea of just taking on the challenge of trekking across the city in one day and seeling all the things we could see."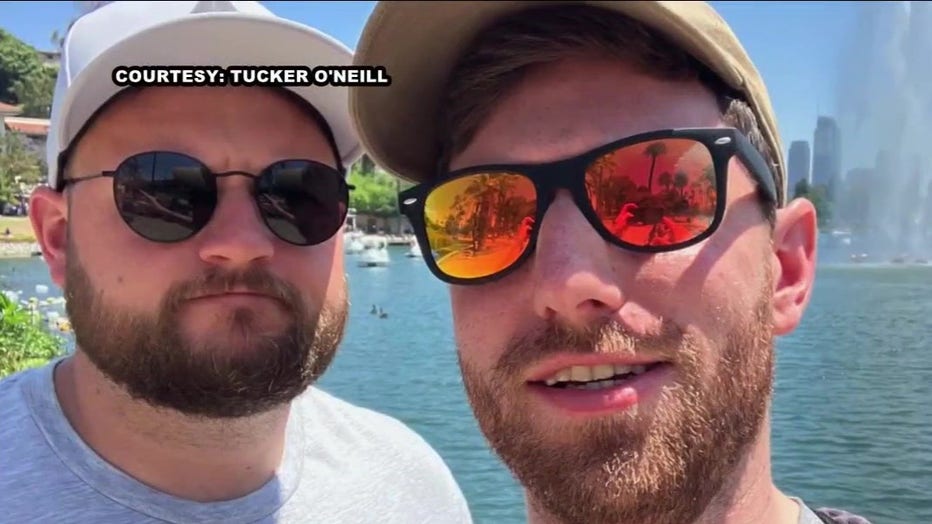 O'Neill said that he was the one inspired to take the journey. When asked how willingly Brumbaugh went along with the idea, he said "I've always said that if you're friend's going to do something dumb, don't let them do it alone."
When asked how they prepared for their journey, Brumbaugh said they had "absolutely no training. I actually slept on Tucker's couch the night before. We are not athletes it's very safe to say."
Brumbaugh chronicled the trek on his social media. The two started out in Pasadena around 7 a.m. From there, they headed west into Glendale, then south towards downtown LA, then west along Wilshire Boulevard, eventually making their way through Beverly Hills and eventually, approximately 14 hours later, they made it to the Santa Monica Pier.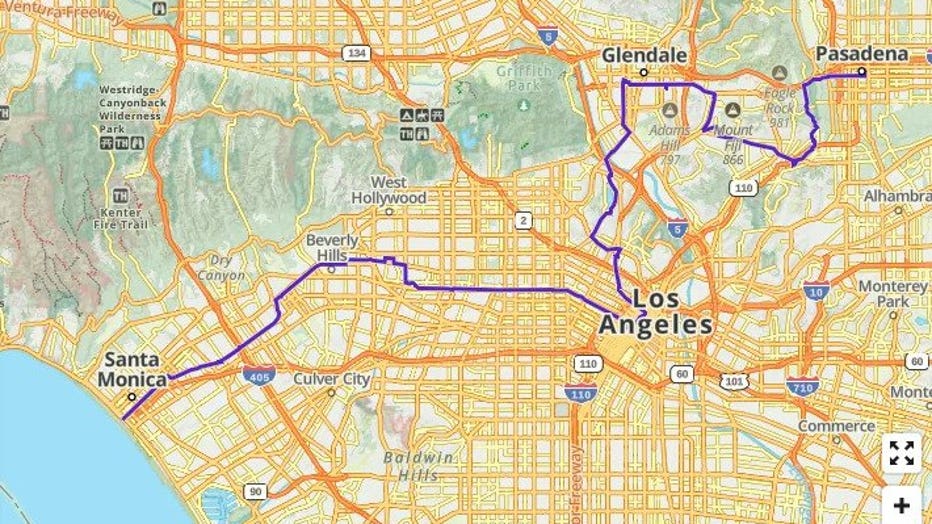 The route Tucker O'Neill and Wes Brumbaugh took during their 14-hour walk across Los Angeles.
O'Neill and Brumbaugh said they packed snacks and water for the journey, but "the beauty of doing it in LA is that you can kind of stop anywhere and pick up what you need," adding that stopping to pick up extra socks was essential.
"I think a lot of people want to walk in LA," O'Neill said. "I think a lot of people want to be able to do something like this and feel discouraged. So I would encourage anyone who wants to do this to just go out and give it a try."
"I just think that the walk was pretty much a testament to Tucker and I's friendship," Brumbaugh said. "You don't see as much of the city from the car, so when you're able to slow it down by seeing everything on foot it really gives you a different perspective of the city, and it was just a ton of fun."
The two said they've already started planning a follow-up trip, tentatively planned to start from Santa Monica, walking to Venice and crossing the city east, through USC, Dodger Stadium and ending in Griffith Park — a measly 35 miles.