Dr. Oz discusses coronavirus fears, previews 'Breakfast Showdown' with Mark Wahlberg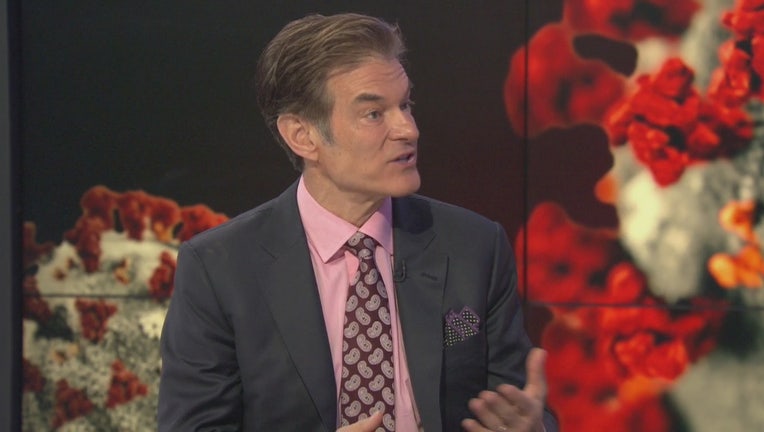 LOS ANGELES - Dr. Oz stopped by Good Day LA to discuss coronavirus fears and what we should be doing to prepare.
Some of the most recent cases in California involve a flight attendant who was diagnosed after flights in and out of Los Angeles as well as the first case in Solano County in Northern California which may be the first nationwide with a diagnosed patient without any known connections to travel overseas. 
Dr. Oz says new details are emerging about the coronavirus case in Solano County. 
Mexican health officials also confirmed the first two cases of the new coronavirus Friday. 
"The reason that we have these fears is because it's deep in our souls," Dr. Oz said. He explained many Americans may feel the coronavirus may kill a quarter of the population like the 1918 influenza pandemic. However, Dr. Oz says this is not the case and that the coronavirus has "twice the mortality rate of the regular flu."
"Once you get the regular flu, you give it to nine people in that week. If you get the coronavirus, you'll give it to 45 people," he used as an analogy. 
"It's coming, it's going to be everywhere. It's not going to be deadly but it's much more contagious," he said. 
Dr. Oz says he is not hitting the panic button and on a scale between one and ten, he said the new coronavirus is a "three to four."
He also said it may be another 12 to 18 months before there is a vaccine, saying a priority will be getting a vaccine to healthcare workers in order to protect them. 
Click here for news related to the coronavirus
The famous doctor believes the spread will slow down over the summer because "viruses don't like warm weather," before reemerging in cooler months. 
In addition, Dr. Oz added the average face masks seen on the streets are ineffective. He says the best thing you can do is to wash your hands for 20 seconds and to get plenty of sleep to help with your immune response. 
After talking about the COVID-19 coronavirus, he previewed a fitness segment that features Mark Wahlberg. One of the men had breakfast before the workout and the other did not.
Dr. Oz believes one is not required to eat breakfast and that intermittent fasting is most effective. 
Watch Dr. Oz's "Breakfast Showdown," with Mark Wahlberg on Wednesday, March 4 on FOX 11 at 1 p.m.
Catch Dr. Oz weekdays at 1 p.m. on FOX 11.