Dodger fan names newborn after Mookie Betts after home run bet
LOS ANGELES - Dodgers star outfielder Mookie Betts is celebrating the birth of a fan's child, after the fan said he gave his newborn daughter the middle name "Mookie."
Betts shared the news on Instagram Tuesday, sharing the story of how the little girl's name came to be. 
"Something pretty neat happened," Betts said in the video. "Back a couple of weeks ago, I was on deck and this guy started talking to me, and he said, 'Mookie if you hit a home run, I'll name my daughter, her middle name, Mookie.'"
Betts said he laughed at the idea, and even told him not to, saying his wife wouldn't like the idea, but the fan, identified later as Giuseppe Mancuso, said he was serious.
The game in question was on Aug. 2 against the Oakland Athletics. In the bottom half of the second inning, Betts hit a 436-foot home run to the left center field bleachers. It was the third-longest home run of Betts' career, according to Baseball Savant. Betts said that after he rounded the bases, he gave Mancuso a fist bump to celebrate before heading back to the dugout.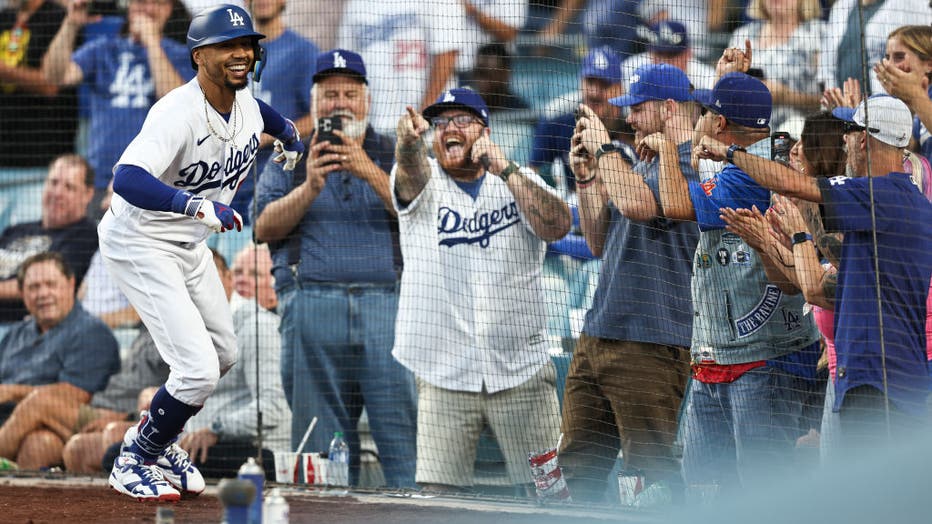 Mookie Betts of the Los Angeles Dodgers celebrates with fans after hitting a solo home run against the Oakland Athletics on August 02, 2023 in Los Angeles, California. (Photo by Michael Owens/Getty Images)
SUGGESTED: 'Fernandomania' Forever: Dodgers to retire No. 34 for Fernando Valenzuela
"And then like a couple of weeks later I see on Twitter the birth certificate for Francesca Mookie Mancuso." Mancuso shared the apparent birth certificate with a photo of the newborn and videos of him with Betts at the game.
According to image shared on Twitter, Francesca Mookie Mancuso was born at Huntington Memorial Hospital in Pasadena to Shannon and Giuseppe Mancuso at 4:50 p.m. on Aug. 7. 
"I can't wait to meet Francesca," Betts said in his Instagram video. "That's gonna be my girl."