Diced onions recalled after salmonella outbreak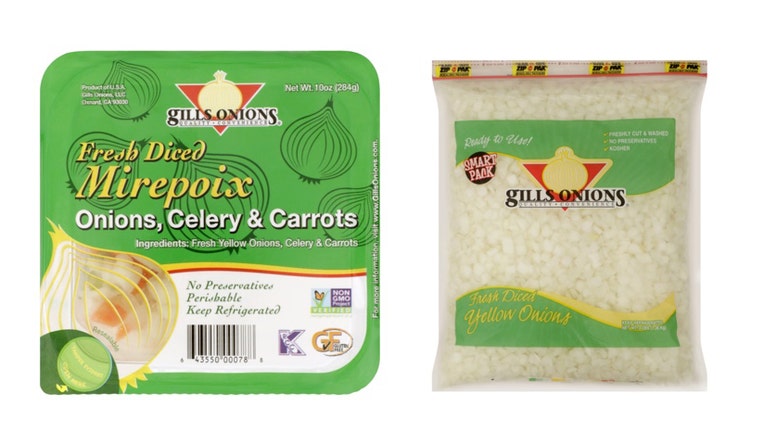 article
A recall for diced onions linked to a salmonella outbreak was issued, and people with the products are encouraged to throw it away if it's in their homes, the Centers for Disease Control and Prevention (CDC) shared on its website. 
Gills Onions in Oxnard, California, initiated a voluntary recall for its branded fresh onions products, including some lots of diced yellow onions (3lb bags and 8 oz cups), diced celery and onions (8 oz cups), diced mirepoix (10 oz cups), and diced red onions (8 oz cups) with use-by dates between Aug. 8, 2023 and Aug. 28, 2023. 
RELATED: Dog food recalled after sample tests positive for salmonella
These recalled onions were shipped to Arizona, California, Idaho, Montana, Oregon and Washington, and sold in select stores and sent to restaurants and institutions nationwide and in Canada.
The CDC is urging consumers who bought the recalled onions to do the following:
Check your freezers and refrigerators for recalled onions and throw them out or return them to the store where you bought them.
Wash items and surfaces that may have touched the recalled onion products using hot, soapy water or a dishwasher.
Call your health provider if you have severe salmonella symptoms, including diarrhea, a fever higher than 102° F, diarrhea for more than three days that is not improving, bloody diarrhea, vomiting to the point that you can't keep liquids down, and signs of dehydration.
RELATED: Salmonella outbreak linked to ground beef sickens 16, hospitalizes 6
Salmonella is an organism that can cause severe illnesses in children younger than 5, and adults 65 years and older, and individuals with weak immune systems. 
According to the CDC, most people infected with salmonella experience diarrhea, fever, and stomach cramps. Symptoms usually start six hours to six days after swallowing the bacteria. 
Most people recover without treatment after four to seven days. 
This story was reported from Washington, D.C.