DeSantis joins Trump on list of speakers at Anaheim GOP conference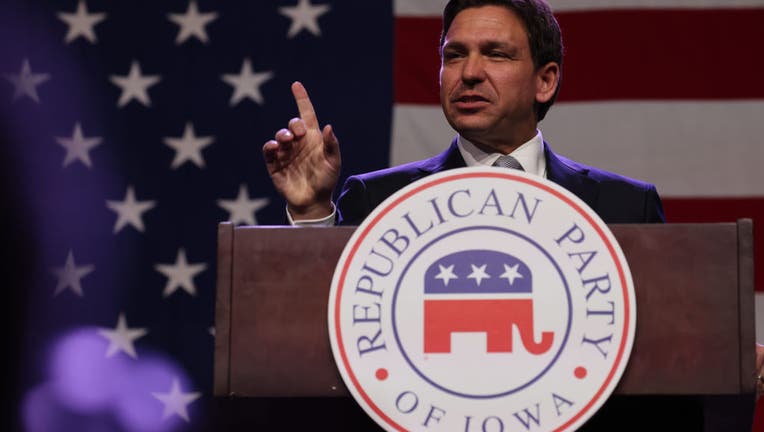 article
ANAHEIM, Calif. - One day after former President Donald Trump was added to the speaker list for the upcoming California Republican Party Convention in Anaheim, the party announced Wednesday that fellow presidential hopeful Ron DeSantis will also be attending.
The Florida governor will be a keynote speaker at a dinner on Sept. 29, the opening night of the three-day convention at the Anaheim Marriott hotel.
"As Californians struggle under the weight of Democrats' failed one-party rule, Governor DeSantis has shown how a state can thrive under responsible, commonsense, conservative leadership," state GOP Chairwoman Jessica Millan Patterson said in a statement. "We look forward to welcoming him to the Golden State to speak with our convention attendees about his plans to take his Florida success all the way to the White House."
SUGGESTED: Trump has now been indicted in a third case. Here's where all investigations stand
Trump is scheduled to speak at a convention luncheon on Sept. 29. His attendance was confirmed Tuesday, just days after the state Republican Party amended its process for awarding delegates to candidates in the March 5 primary election. Under the amended process, if a presidential primary election candidate receives more than half of the votes cast, that person will receive all 169 of the state's delegates. If no candidate reaches 50%, the delegates will be awarded proportionally based on the number of votes received.
SUGGESTED: It's official: Florida Gov. Ron DeSantis is running for president
Delegates were previously awarded by individual congressional districts within the state.
The change is seen as a major boon for Trump, who holds a solid lead in national polls among GOP presidential hopefuls despite criminal indictments stemming from alleged mishandling of classified documents and efforts to block the 2021 certification of President Joe Biden's election.