Deion Sanders effect: Blenders Eyewear sunglasses flying off shelves amid 'Coach Prime' hype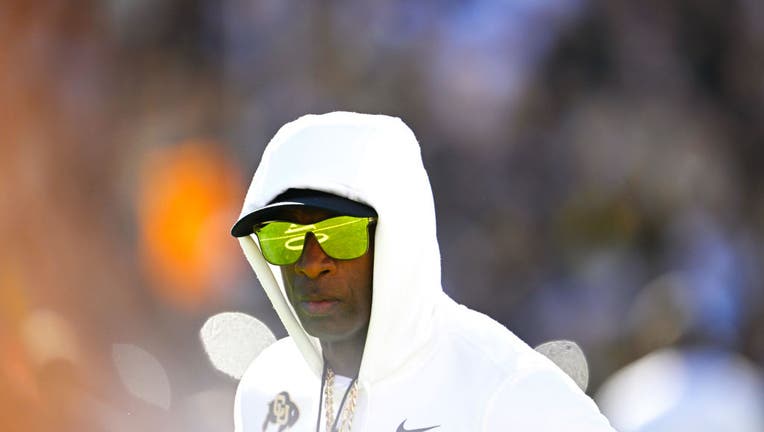 article
SANTA MONICA, Calif. - Deion Sanders and the Colorado Buffaloes are the talk of the college football world – and a Southern California sunglass company is getting its chance to shine in the spotlight.
Sanders, the NFL hall-of-famer who is now the Buffs head football coach, teamed up with San Diego-based Blenders Eyewear to launch a new line of sunglasses. Prior to Colorado's 43-35 overtime winner against Colorado State, Sanders received some shade from Rams coach Jay Norvell after the latter made comments about the Buffs coach's signature hat-and-sunglasses look during interviews.
"I don't care if they hear it in Boulder. I told them, 'I took my hat off, and my glasses off,'" Norvell said in an interview last week. "'When I talk to grown-ups, I take my hat and my glasses off.' That's what my mother taught me."
"Coach Prime" responded to Norvell's comments by doubling down on his signature look. Not only did he show up to Saturday's game against the Rams with shades and cap, he also gifted his entire team a pair of gold Blenders Eyewear sunglasses.
PREVIOUS COVERAGE: Sanders gives Colorado players sunglasses to continue feud with Colorado State's Jay Norvell
The sunglasses controversy then took on a life of its own – both Sanders and a report from Joe Pompliano claim Blenders Eyewear made about $1.2 million in sales on September 15.
Sanders, who is in his first year with the Buffs after coaching Jackson State for three seasons, has taken the college football world by storm. "Prime Time" took over a Colorado football team that finished 2022 with a 1-11 record and has led the current group of Buffs to a 3-0 record with statement wins over reigning College Football Playoffs finalist TCU, Big Ten's Nebraska and then holding off the Rams in overtime.
During his playing days, Sanders was considered by many as one of the most league's most electrifying stars and is considered one of the greatest defensive backs of all time. In 14 seasons in the NFL, Sanders was named an All-Pro six times, in addition to winning Defensive Player of the Year in 1994, was named to the Pro Bowl eight times and won two Super Bowls.
College football fans in Los Angeles will get a chance to see "Coach Prime's" Buffs in person later in the regular season as Colorado faces UCLA at the Rose Bowl on Saturday, October 28. USC plays the Buffs on September 30, but the game will be in Boulder.