Co-worker charged with murder in fatal stabbing of retired administrator at Cal State University Fullerton
FULLERTON, Calif. - A co-worker of a murdered retired Cal State University Fullerton administrator, who was stabbed to death a week before the start of the fall semester, was charged Friday in connection to the crime.
Chuyen Vo, 51, was charged Friday with murder, the charge includes a special-circumstance allegation of lying in wait, along with an allegation of personal use of a deadly weapon, according to court records.
Vo was arrested on Wednesday at his home in Huntington Beach around 10:15 p.m. Wednesday night, Fullerton Police said in a press conference Thursday afternoon. The suspect and victim were co-workers, police said, but declined to elaborate on their working relationship.
Police said Steven Shek Keung Chan, 57, of Hacienda Heights was the victim of a targeted attack after he was found with multiple stab wounds inside a silver Infiniti sedan parked in a lot outside an administrative building in the 600 block of Langsdorf Drive about 8:45 a.m. Monday, according to Fullerton police Lt. Jon Radus.
Related: 
-Faculty member found stabbed to death at Cal State University Fullerton campus on first day of fall semester
-Police release sketch of suspect wanted in murder of faculty member at Cal State University Fullerton
Fullerton Police said that a backpack, believed to have been left by the suspect, was located underneath Chan's vehicle. Inside the backpack investigators located an incendiary device along with numerous items "that were consistent with a kidnapping attempt or plot," including zip ties, wigs and other disguise materials as well as a knife, authorities said.
Police said that the backpack played a "significant" role in the investigation that led to Vo's arrest.
"We are confident that the backpack did belong to the suspect," Radus said during Thursday's press conference.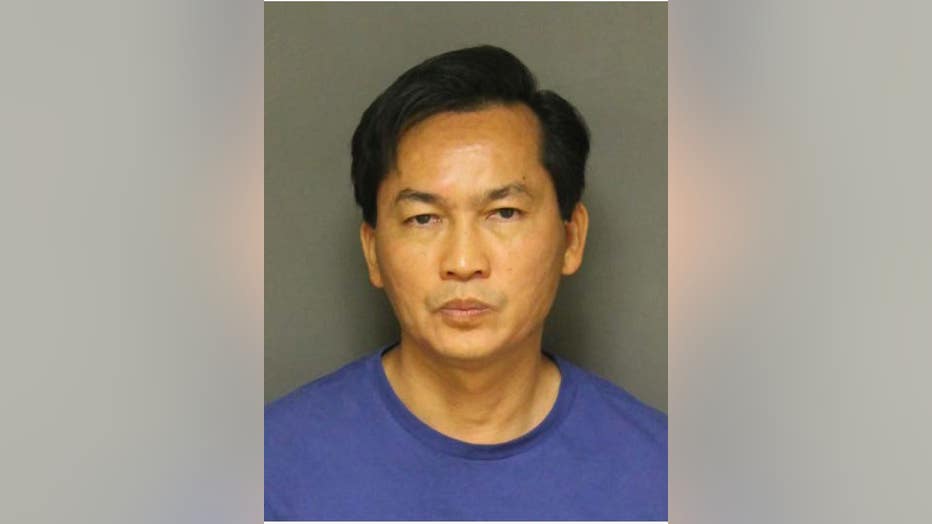 Police are still working to determine a motive for the killing.
Despite the arrest, police said they will continue to have a beefed-up presence on campus to reassure Cal State Fullerton educators, students and staffers.
Cal State Fullerton President Fram Virjee called the killing "an isolated incident," saying "we have no information there's any lingering danger to the health and safety of our campus."
"I come today with a heavy heart, with a heart full of emotion and love and caring, but also a deep sense of loss for our community," Virjee said. "Our hearts are with Steven Chan and his family."
FOX 11's Hal Eisner contributed to this report. CNS contributed to this report.