City officials fight for cardrooms to remain open outdoors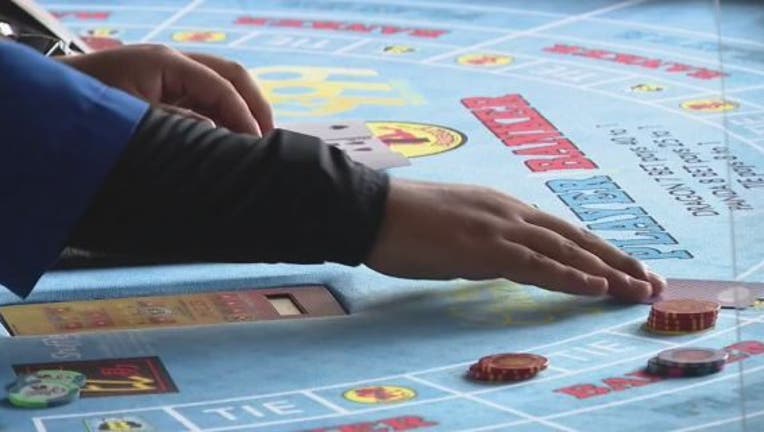 article
LOS ANGELES - On Monday, officials in the cities of Commerce, Bell Gardens and Hawaiian Gardens were expected to ask the Los Angeles County Board of Supervisors to keep cardrooms open, saying that the cardrooms "serve as a lifeline for disadvantaged communities."
"Shutting down the casino is like shutting down the city of Commerce," said City of Commerce Mayor Ivan Altamirano.
Get your top stories delivered daily! Sign up for FOX 11's Fast 5 newsletter. And, get breaking news alerts in the FOX 11 News app. Download for iOS or Android.
In a press release, officials said the cities greatly depend on cardrooms as they account for 75% of their annual operating budgets. 
Under the new safer-at-home order that went into effect Monday, cardrooms are expected to cease operations. 
The goal of the meeting at Commerce Casino was to urge LA County to allow cardrooms to continue operating despite the new 'safer-at-home orders' that just went into effect, arguing that they provide thousands of local jobs and millions of dollars in tax revenue which support cities' general funds.
Bell Gardens City Manager Michael B. O'Kelly explained where that money goes. "The city uses the general fund to provide basic public services - primarily police services, services to seniors, services to children - those at most risk," he said.
Speakers argued that the protocols now in place at cardrooms are stricter than most businesses, including:
• Plexiglass must be installed and six-feet high between each player
• No food or drink is allowed at the table at any time
• Masks must be worn at all times
• Employee dealers must hear face shields and masks and include a plexiglass barrier
• Sanitizing is extensive between games
• Hand sanitizers are located throughout the outdoor area
• Temperatures are taken before a player or employee can be admitted
• Extensive screening including multiple questions conducted of each customer before entering the outdoor facility.
According to the press release, "protocols in place at cardrooms are stricter than most businesses."
Bell Gardens Mayor Alejandra Cortez said that cities should have a seat at the table. "As city leaders it is extremely frustrating to not be a part of the decision-making process when it comes to direct revenue sources to our city."
Others questioned the reasoning behind the decision to close cardrooms when their operations have moved entirely outdoors.
"This was an arbitrary decision not made on science or any other measurable information as card clubs have not been identified as any state, county, or local agency to bring primary source infections," said Hawaiian Gardens City Manager Ernie Hernandez.
Speakers acknowledged the severity of the pandemic, but maintained that the steps the cardrooms have taken would allow for a safe re-opening.
"We recognize that this surge is serious, and we plan to continue to do our part if permitted to do so. But closing us down won't impact the surge, but it will put thousands of Angelenos out of work right at holiday time, further harm our businesses, and put our cities in deeper financial peril," said Keith Sharp, Gardens Casino's General Counsel.
The meeting is set for Monday at 11 a.m.