Russian missile attack kills 7, injures dozens more in northern Ukraine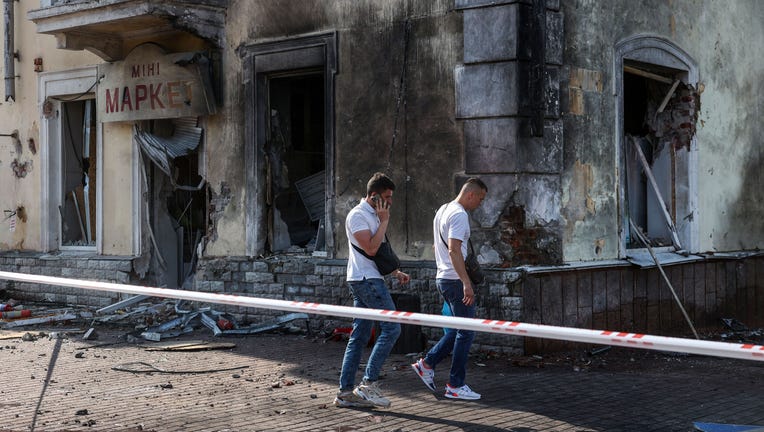 article
A Russian missile attack in the center of a northern Ukrainian city on Saturday killed seven people and wounded over a hundred others, including children, Ukrainian officials said.
The attack in Chernihiv happened as Ukrainian President Volodymyr Zelenskyy arrived in Sweden on his first foreign trip since attending a NATO summit in Lithuania last month.
Images of the aftermath showed badly damaged buildings including a theater with its roof blown away, mangled cars and survivors walking amid the debris with bloodstained clothes. The dead in the daytime strike included a 6-year-old girl, while 15 children were among the 129 wounded, Ukraine's Interior Minister Ihor Klymenko said.
The square in front of the theater building had been bustling with life, with people returning from church after celebrating the Apple Feast of the Savior religious holiday, baskets of consecrated apples in hand, Klymenko said. Following the strike, debris from the theater roof littered the square, along with shattered glass from the windows of nearby cars and restaurants.
The strike hit the theater during a gathering of drone manufacturers and aerial reconnaissance training schools, organizer Mariia Berlinska confirmed. Berlinska said that the event was officially agreed in advance with both the local authorities and the venue. The Chernihiv City Council denied that they had approved the event or issued any permits.
Zelenskyy said the attack showed Russia was a "terrorist state" and that the world must unite against it.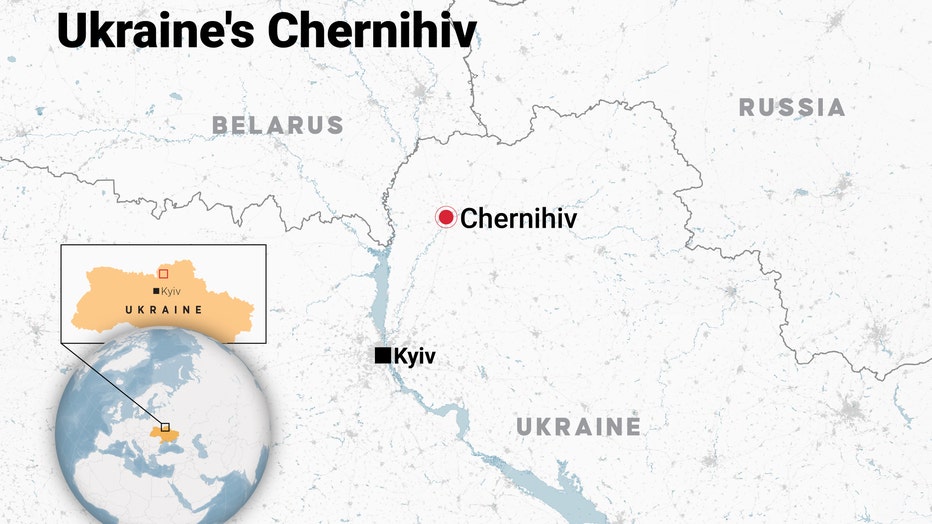 An infographic titled "Russian missile strike hits Ukraine's Chernihiv" is created in Ankara, Turkiye on August 19, 2023. (Photo by Yasin Demirci/Anadolu Agency via Getty Images)
"A Russian missile hit right in the center of the city, in our Chernihiv," he wrote on Telegram. "A square, the polytechnic university, a theater. An ordinary Saturday, which Russia turned into a day of pain and loss."
Chernihiv was surrounded by Russian forces at the start of the war but they withdrew after Ukrainian forces retook control of areas north of Kyiv in April last year.
Zelenskyy arrived in Sweden on an unannounced visit Saturday — his first to the Scandinavian country since the start of the full-scale invasion. The war prompted Sweden to abandon its longstanding policy of military nonalignment to support Ukraine with weapons and apply for NATO membership, though it is still waiting to join the alliance.
At a joint news conference, Zelenskyy and Swedish Prime Minister Ulf Kristersson announced the two countries had agreed to cooperate on the production, training and servicing of Swedish CV90 infantry fighting vehicles. Zelenskyy said Ukraine would start manufacturing the vehicles as part of the deal.
He also encouraged Kristersson to "share" Sweden's Gripen fighter aircraft with Ukraine.
"We do not have superiority in the air, and we do not have modern aircraft. In reality, the Swedish Gripen is the pride of your country, and I believe that the prime minister could share this pride with Ukraine," Zelenskyy said.
Sweden has said it will allow Ukrainian pilots to test the Gripen planes but has so far ruled out giving any to Kyiv.
Zelenskyy said "appropriate actions" would be taken in coming weeks to help Ukraine obtain "appropriate aircraft."
"I will also have negotiations with several other states tomorrow and the day after tomorrow. I am confident that we, together with our partners, will do everything and achieve the appropriate result in the sky so that the Russians do not have an advantage there," he said.
Denmark and the Netherlands said Friday that the United States had given its approval for the countries to deliver U.S.-made F-16 fighter jets to Ukraine.
Sweden says it has provided 20 billion kronor (1.7 billion euros) in military support to Ukraine, including Archer artillery units, Leopard 2 tanks and CV90 armored vehicles.
Zelenskyy met with Kristersson and other Swedish officials at Harpsund, the prime minister's official summertime residence, about 120 kilometers (75 miles) west of Stockholm. He and first lady Olena Zelenska later met Sweden's King Carl XVI Gustaf and Queen Silvia at a palace in the area.
Kristersson expressed his condolences to Zelenskyy for the attack in Chernihiv. He called the Russian missile strike an "act of brutality" which "only reinforces the need for us to stand with you in all your struggles."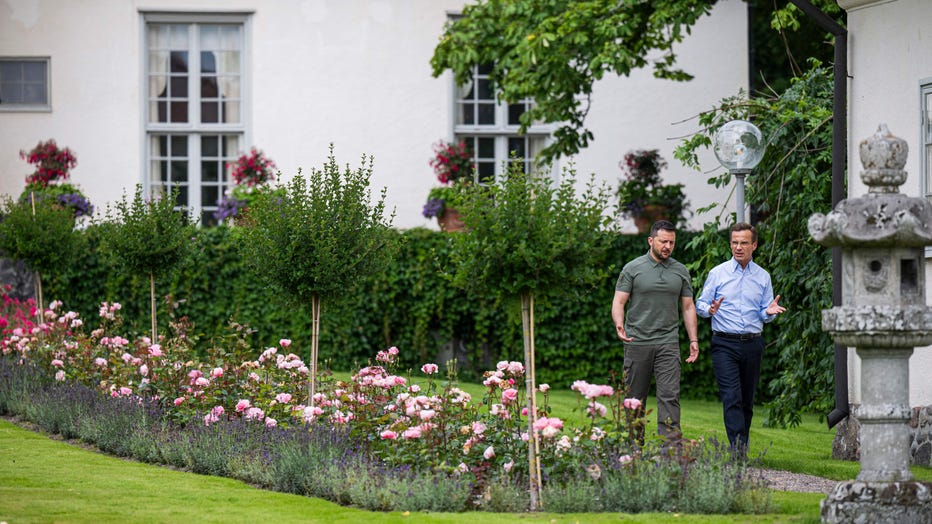 Ukrainian President Volodymyr Zelensky and Swedish Prime Minister Ulf Kristersson take a walk in the garden of the minister's countryside retreat in Harpsund, south-west of Stockholm, Sweden on August 19, 2023. (Photo by Jonathan Nackstrand/AFP via G
In Russia, President Vladimir Putin visited top military officials in the city of Rostov-on-Don near the Ukrainian border.
The Kremlin said that Putin listened to reports from Valery Gerasimov, the commander in charge of Moscow's operations in Ukraine, and other top military brass at the headquarters of Russia's Southern Military District.
The exact timings of his visit were not confirmed, but state media published video footage that appeared to be filmed at night, showing Gerasimov greeting Putin and leading him into a building. The meeting itself was held behind closed doors.
It was Putin's first visit to Rostov-on-Don since the Wagner mercenary group 's attempted mutiny in June, when the group's fighters briefly took control of the city.
RELATED: Biden asks Congress for $40 billion to help Ukraine, replenish US disaster aid and strengthen border
During June's short-lived revolt, Wagner head Yevgeny Prigozhin repeatedly denounced Gerasimov, who serves as chief of the general staff of the Russian armed forces, and Defense Minister Sergei Shoigu for denying supplies to his fighters in Ukraine.
Prigozhin claimed that the uprising was not aimed at Putin but at removing Gerasimov and other top brass who he accused of mismanaging the war in Ukraine.
Kyiv this week has claimed counteroffensive gains on the southeastern front, regaining control of the village of Urozhaine in Ukraine's eastern Donetsk region on Wednesday.
The leader of the Russian battalion fighting to maintain control of Urozhaine called for "freezing the front" on Thursday, saying his troops "cannot win" against Ukraine.
"Can we bring down Ukraine militarily? Now and in the near future, no," Alexander Khodakovsky said in a video posted to Telegram.
Overnight into Saturday, Ukraine's air force said it shot down 15 out of 17 Russian drones targeting northern, central and western regions.
The deputy governor of the western Khmelnytskyi region, Serhii Tiurin, said two people were wounded and dozens of buildings damaged by an attack.
In the northwestern Zhytomyr region, a Russian drone attack targeted an infrastructure facility and caused a fire, but no casualties were reported, said Gov. Vitalii Bunechko.
———
Ritter reported from Stockholm. Morton reported from London.
___
AP reporter Karl Ritter in Stockholm contributed.