LA Hurricane Hilary: Tropical Storm Warning issued in Southern California for 1st time
LOS ANGELES - After Hurricane Hilary continued to intensify overnight, the National Weather Service issued a Tropical Storm Warning for parts of Southern California for the very first time. 
The NWS defines the aforementioned warning as tropical storm conditions expected somewhere within the warning area. The Tropical Storm Warning is in effect for areas north of the California-Mexico border and south of Point Mugu in Ventura County. The same warning is in effect for Catalina Island and Mainland Mexico north of Guaymas.
Those in the area will notice monsoonal and tropical moisture surge into the area over the weekend, and the remnants of Hurricane Hilary are expected to hit the region by Sunday night.
RELATED: 
What can I expect?
Southern California residents can expect gusty winds, significant rainfall, and dangerous ocean and marine conditions. 
Between 2 and 4 inches of rain are expected in the coasts and valleys, between 3 and 7 inches of rain in the foothills and deserts, and between 4 and 10 inches of rain in the mountain communities. 
The NWS is encouraging residents to prepare accordingly.
SUGGESTED: How to prepare for Hurricane Hilary
Which areas will be most impacted?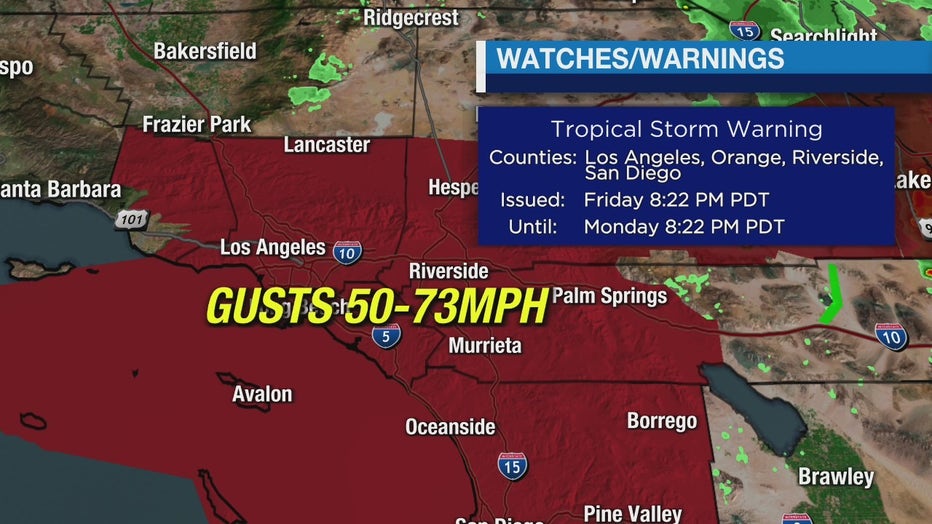 Los Angeles County mountain passes including the Tejon Pass, Gorman, and Pyramid Lake
Catalina Island 
Coastal communities
Antelope Valley Foothills
San Gabriel Mountains
14 and 5 Freeway corridors
Santa Clarita Valley
Huntington Beach and Costa Mesa
Beverly Hills
Compton
Downey
Culver  City
Hollywood
Norwalk
Santa Barbara
Potential impact
The NWS said we can expect:
Flash flooding
Road surf, coastal erosion, and life-threatening rip currents
Scattered power outages
Damage to porches, awnings, carports, sheds and unanchored mobile homes
Large tree limbs may break off and some trees may potentially snap or uproot
Some fences and roadway signs may blow over
Some roads may become impassive from debris
Hazardous driving conditions may occur on bridges or other elevated roadways
The Los Angeles County Sheriff's Department held a press conference on storm preparations Friday afternoon. LASD Sheriff Robert Luna said they are working with other county resources and have teams in place to help with outreach efforts with the unhoused population. 
LA County Supervisor Janice Hahn called the Tropical Storm Watch a "once in a lifetime event" and added that "this is going to be an all-hands-on deck-effort."
Click here to sign up for Ready LA County Alerts
Fire officials said residents should keep in mind the storm's path could shift to the East or the West, as it heads up the coast from Mexico. 
The county's Public Works, fire, and sheriff departments said they are staffed and prepared. 
Flood Watch
The NWS has issued a Flood Watch caused by potential excessive rainfall for several portions of Southern California from 5 a.m. Monday to 11 p.m.  Tuesday. 
Those who live in areas prone to flooding are encouraged to consider protective actions.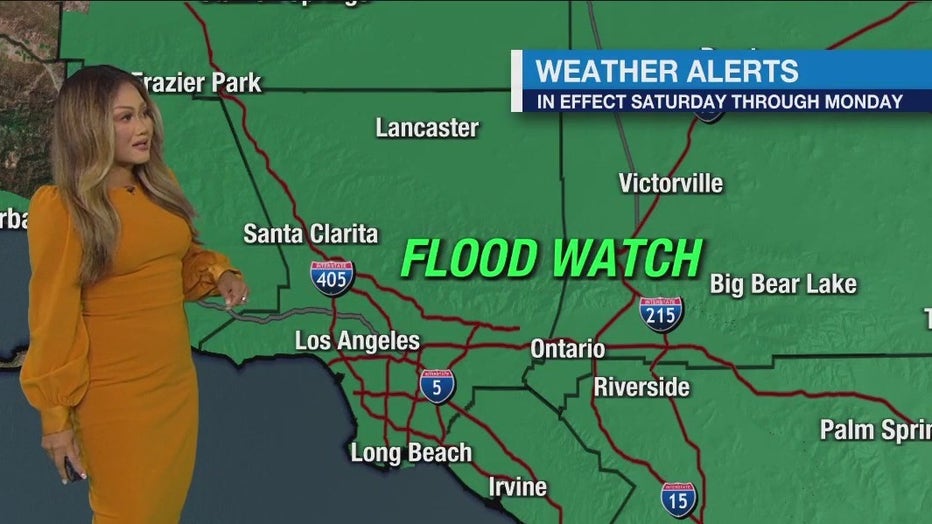 The Flood Watch is in effect for the following areas:
Orange County coastal and inland areas
The Valleys in San Bernardino and Riverside counties
San Diego County coastal areas and valleys
Santa Ana Mountains and Foothills