California homebuyers must earn this much to afford a typical home
LOS ANGELES - Buying a home in the U.S. is becoming more and more of an unattainable dream for most Americans as sky-high mortgage rates and home prices continue to rise.
A homebuyer must earn $114,627 to afford the median-priced U.S. home, up 15% ($15,285) from a year ago and up more than 50% since the start of the pandemic, according to a recent report from Redfin. That's the highest annual income necessary to afford a home on record. 
This is based on a Redfin analysis that compares median monthly mortgage payments for homebuyers in August 2023 and August 2022. Study results used monthly median mortgage payments calculated assuming the buyer made a 20% down payment, and take that month's median sale price and average mortgage-interest rate into account.
The study found homebuyers must earn six figures to buy a home in half the major metros in the country. In 50 of the 100 metros in the study, buyers must earn at least $100,000 to afford the median-priced home in their area, while elsewhere in the country buyers must earn at least $50,000. 
SUGGESTED:
Purchasing a home in California you'll have to earn even more, as five of the most expensive metro markets in the country are located in the Golden State. 
Coming in at No. 1. is the Bay Area, where you'll need to earn more than $400,000 to afford a median-priced home in the San Francisco-San Jose metro area. Following the Bay are Anaheim ($300,000), Oakland ($250,000), San Diego ($241,000), Los Angeles ($237,000) and Oxnard ($233,000).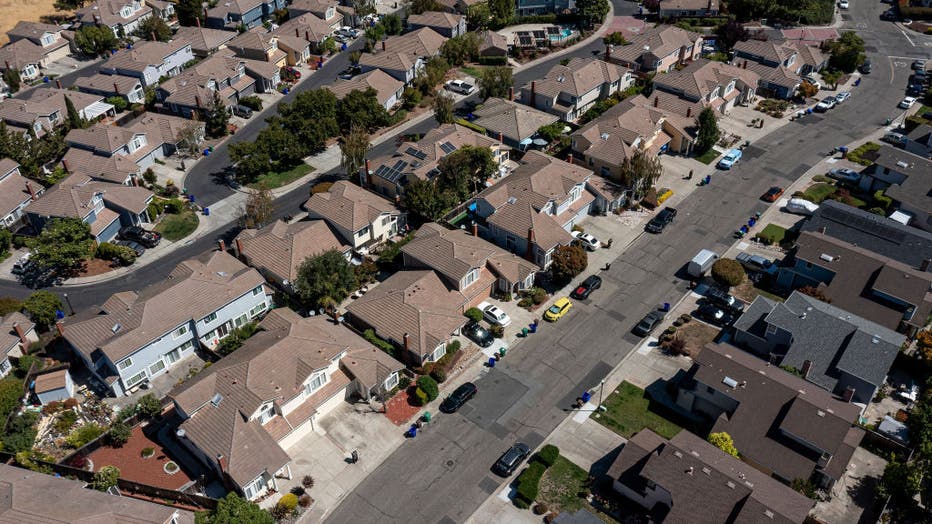 Homes in Hercules, California, US, on Wednesday, Aug. 16, 2023. Photographer: David Paul Morris/Bloomberg via Getty Images
The lowest income needed to afford a home in the U.S. is $52,000 - which is how much the median-priced home in Detroit costs, up 19% from a year ago. The next three metros where you need the least income are all in Ohio - Akron, Dayton, and Cleveland - where you need to make around $60,000 a year to buy a home.
"In a homebuyer's ideal world, rising mortgage rates would push demand and home prices down enough to make up for high interest payments. But that's not what's happening now: Although new listings are ticking up slightly, inventory is still near record lows as homeowners hang onto their low mortgage rates–and that's propping up prices," said Redfin Economics Research Lead Chen Zhao. "Buyers–particularly first-timers–who are committed to getting into a home now should think outside the box. Consider a condo or townhouse, which are less expensive than a single-family home, and/or consider moving to a more affordable part of the country, or a more affordable suburb."
The typical American household earns about $40,000 less than the income needed to buy a median-priced home, according to the data. The median household income was roughly $75,000 in 2022, the most recent year for which annual income data is available. 
To see the full study, tap or click here.