Border Protection warns travelers face fines for smuggling eggs to US from Mexico as prices soar
Americans living near the southern border apparently are crossing into Mexico for their grocery shopping to dodge high prices in the United States. 
U.S. Customs and Border Protection recently warned travelers that transporting agricultural items like raw eggs and poultry from Mexico to the United States can result in fines. The agency linked rising prices attributed to the outbreak of bird flu to an increase in prohibited foodstuffs intercepted by officers at the border.
"We are seeing an increase in people attempt to cross eggs from Juarez to El Paso because they are significantly less expensive in Mexico than the U.S. This is also occurring with added frequency at other southwest border locations as well," said Roger Maier, a CBP Public Affairs Specialist based in El Paso, Texas.  
The El Paso Field Office reported a 92% increase in incidents of travelers attempting to carry eggs into the United States between Nov. 1 and Jan. 17 over the same period last year. The San Diego Field Office reported the highest number of interceptions/encounters involving eggs, with 1,077 incidents, a 368% increase since last year.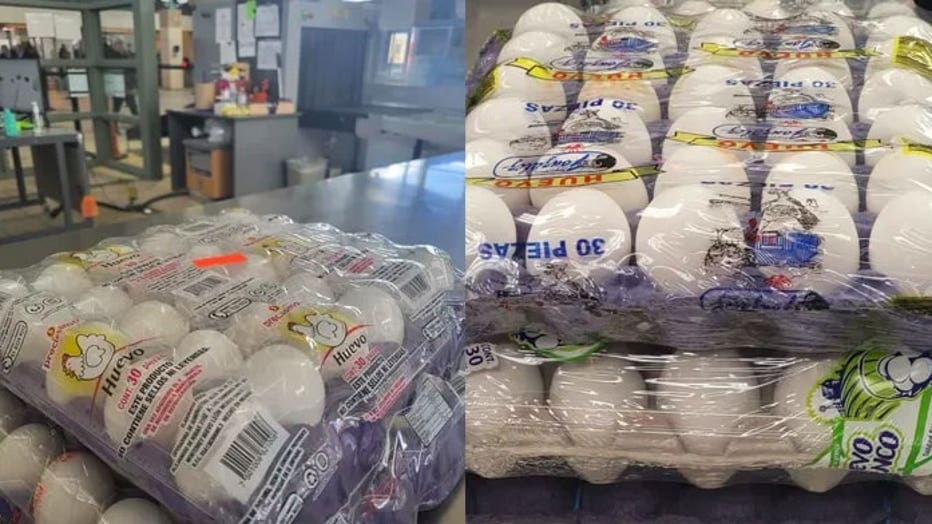 U.S. Customs and Border Protection reported a 92% increase in eggs seized at the El Paso Field Office from Nov. 1 to Jan. 17 over the same period last year. (U.S. Customs and Border Protection / Fox News)
Anyone caught smuggling eggs can face a $300 civil penalty, though CBP says most people declare their prohibited foodstuffs during inspection at the border. 
"There has been a large increase in the volume of prohibited food items, such as raw eggs and raw poultry meat, brought by travelers from Mexico. We would like to remind the traveling public that federal agricultural regulations remain in effect," said Jennifer De La O, CBP Director of Field Operations in San Diego in a recent press release. 
RELATED COVERAGE:
Thanks to an outbreak of avian influenza, U.S. egg inventories were 29% lower in the final week of December 2022 than at the beginning of the year, according to the Department of Agriculture's Economic Research Service. More than 43 million egg-laying hens were lost to the disease, and constrained supply has sent egg prices skyrocketing to record highs. 
Consumers were hit with a 60% increase in prices across all egg types last year, according to the consumer price index, which measures inflation. 
The average price for a dozen large, Grade A eggs was $4.25 in December, a 138% increase from $1.79 the year prior, according to data from the U.S. Bureau of Labor statistics. 
Though high prices in the U.S. can make cheaper eggs in Mexico seem like an easy way to save money, CBP is reminding border residents that prohibited food items declared during inspection when traveling from Mexico will be collected and destroyed.  
"There have been a very small number of cases in the last week or so where the eggs were not declared and then discovered during an inspection," Maier told FOX Business. "When that happens, the eggs are seized and the individual is assessed a $300 civil penalty. Penalties can be higher for repeat offenders or commercial size imports.
"With food and agriculture products, the best advice to travelers is to always declare it. While many items may be permissible, it's best to declare them to avoid possible fines and penalties if they are deemed prohibited," he added. "If they are declared and deemed prohibited, they can be abandoned without consequence. If they are undeclared and then discovered during an exam the traveler will be subject to penalties."