Bobcat Fire in Angeles National Forest now at 95% containment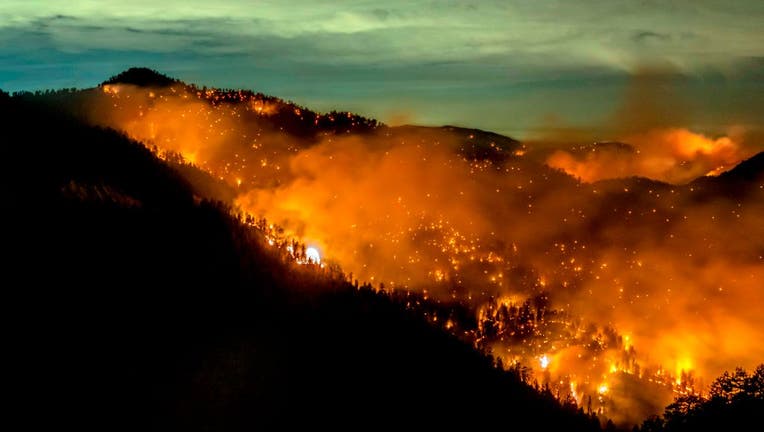 article
LOS ANGELES - Firefighters were making steady progress on the 115,796-acre Bobcat Fire Thursday, with containment growing to 95%.
The fire, which began in the Angeles National Forest, has destroyed 171 structures, including 87 residences, and damaged 47 structures, including 28 residences.
Full containment is estimated for Oct 30. Officials had previously estimated full containment by Sept. 30.
"Over the last couple of days, crews were successful in bringing containment of the #BobcatFire to 95%. Please use caution when traveling in the Mt. Wilson area as your firefighters are still working to repair and mop-up in that area," the Angeles National Forest tweeted Wednesday.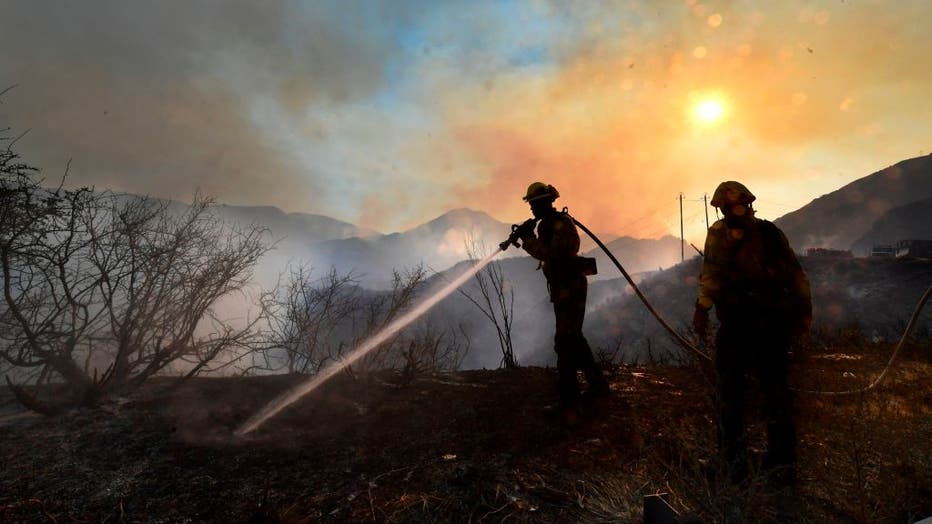 Firefighters work the Bobcat Fire in the Angeles National Forest on September 23, 2020 in Los Angeles, California. (Photo by FREDERIC J. BROWN/AFP via Getty Images) (Getty Images)
A half-dozen injuries from the Bobcat Fire have been reported, according to the USFS. Flames have destroyed 171 structures and affected another 47 in the Antelope Valley area, with seven sustaining minor damage and five major damage, USFS officials said. Of the buildings destroyed, 87 were residential.
It remains unclear what caused the fire, but on Sept. 23, federal investigators revealed they were looking into an equipment issue experienced by Southern California Edison around the time the fire broke out to determine if it was a factor in sparking one of the largest wildfires in Los Angeles County history.
The utility says it was not responsible for starting the blaze, insisting that fire was detected by a camera on Mt. Wilson a few minutes before it experienced an equipment issue.
RELATED: Utility equipment eyed as possible source of massive Bobcat Fire burning in Angeles National Forest
The stubborn blaze erupted on Sept. 6 near the Cogswell Dam and West Fork Day Use area. Firefighters initially reported the fire was burning in heavy fuels with a rapid rate of spread.
Loans are available through the U.S. Small Business Administration for Los Angeles County residents and businesses that suffered damage as a result of the fire.
Under the federal loan program, businesses of all sizes and private nonprofit organizations may borrow up to $2 million to repair or replace damaged or destroyed real estate, machinery and equipment, inventory and other business assets.
SBA low-interest loans can also help businesses with the cost of improvements to protect, prevent or minimize the same type of disaster damage from occurring in the future.
Disaster loans up to $200,000 are available to homeowners to repair damaged or destroyed real estate. Homeowners and renters are eligible for up to $40,000 to repair or replace damaged or destroyed personal property.
Those who need assistance with their application can visit the Los Angeles County Disaster Help Center at lacountyhelpcenter.org, or call 833-238-4450.
Get breaking news alerts in the FOX 11 News app. Download for iOS or Android.
The Bobcat Fire was one of several fires that sparked across the region as parts of California saw record-breaking temperatures over Labor Day weekend. Temperatures in the forest were well above 100 degrees as a hit wave struck Southern California. 
Fire crews were sent to an area near the dam and West Fork Day Use area at 12:22 p.m. Sunday, Sept. 6, according to a Los Angeles County Fire Department dispatcher.
The fire generated a pyrocumulus cloud that was seen for miles, across many parts of Los Angeles County. After the fire erupted, firefighters reported experiencing erratic fire behavior.
Structures were threatened, according to Angeles National Forest officials, who initially sent five engines, three hand crews, four helicopters, five fixed-wing aircraft and two water tenders to battle the blaze.
FOX 11's Shelly Insheiwat, Christina Gonzalez, Mary Stringini, Mario Ramirez and CNS contributed to this report.