Bills-Bengals game suspended when Hamlin suffered cardiac arrest won't resume this week, NFL says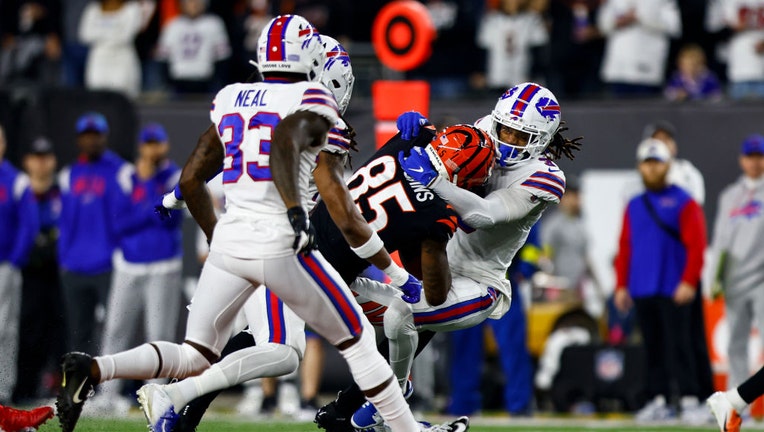 article
The NFL says that the Buffalo Bills-Cincinnati Bengals game suspended when Damar Hamlin suffered cardiac arrest won't resume this week.  The league also shared that the Week 18 schedule won't change. 
In a statement released Tuesday, the league states "The NFL continues to be in regular contact with the medical team caring for Damar Hamlin, and also the Bills and Bengals organizations and the NFL Players Association."
RELATED: Buffalo Bills' Damar Hamlin in 'critical condition' after collapse on field
"After speaking with both teams and NFLPA leadership, NFL Commissioner Roger Goodell informed the clubs today that the Bills-Bengals game will not be resumed this week."
"The NFL has made no decision regarding the possible resumption of the game at a later date.  The league has not made any changes to the Week 18 regular season schedule."
"We will continue to provide additional information as it becomes available."
Hamlin, a defensive back for Buffalo, was in critical condition early Tuesday after the Bills say his heart stopped following a tackle during the Monday Night Football game, which was indefinitely postponed.
RELATED: Damar Hamlin's toy drive raises more than $4M after horrific MNF injury
Hamlin collapsed on the field during the first quarter of the nationally televised game against the Cincinnati Bengals and was given medical treatment for nearly 20 minutes before being taken to a hospital.
"Damar Hamlin suffered a cardiac arrest following a hit in our game versus the Bengals. His heartbeat was restored on the field and he was transferred to the UC Medical Center for further testing and treatment," the Bills said in a statement. "He is currently sedated and listed in critical condition."
RELATED: Dr. Mike explains what may have caused Bills' safety Damar Hamlin's life-threatening injury
Jordon Rooney, a family representative who described himself as a good friend of the player, told ABC's "Good Morning America" on Tuesday that Hamlin's relatives are in good spirits but going through a lot and need their privacy. He declined to give details on Hamlin's condition other than to say he is sedated.
"All I can say is he's fighting; he's a fighter," Rooney said.
In a chilling scene, Hamlin was administered CPR on the field, ESPN reported, while surrounded by teammates, some of them in tears, while they shielded him from public view. He was hurt while tackling Bengals receiver Tee Higgins on a seemingly routine play that didn't appear unusually violent.
On the play the 6-foot, 200-pound Hamlin was injured, Higgins led with his right shoulder, which hit the defensive back in the chest. Hamlin then wrapped his arms around Higgins' shoulders and helmet to drag him down. Hamlin quickly got to his feet, appeared to adjust his face mask with his right hand and then fell backward about three seconds later and lay motionless.
Hamlin was treated on the field by team and independent medical personnel and local paramedics, and he was taken by ambulance to University of Cincinnati Medical Center. Teammate Stefon Diggs later joined Hamlin at the hospital.
About 100 Bills fans and a few Bengals fans gathered on a corner one block from the emergency room entrance, some of them holding candles.