Beverly Hills declares local emergency over coronavirus
BEVERLY HILLS, Calif. - An emergency ordinance closing most businesses in Beverly Hills, including on the famed Rodeo Drive, was approved by its City Council in response to the coronavirus outbreak.
The ordinance calls for the closure of "all non-essential retail businesses," except for pick up, delivery and certain transactions by appointment. It went into effect at midnight.
All bars and nightclubs in the city that do not serve food are closed. Those bars and nightclubs that do serve food "may remain open only for the purposes of continuing to prepare and offer food to customers via delivery service or to be picked up," the order stated.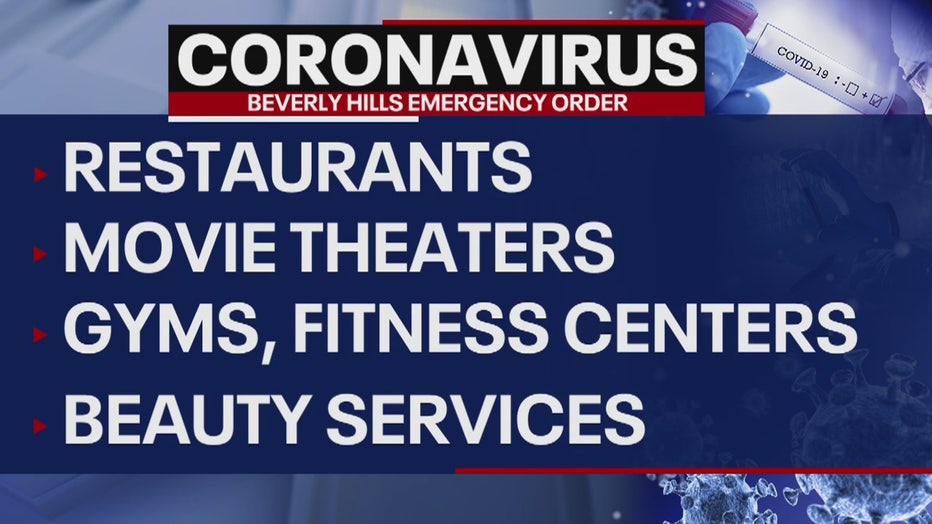 Dining in is prohibited, but parking in front of businesses will be accommodated "to allow for easier access for 'to go' dining," according to the order.
In addition to retail businesses, bars and nightclubs, the order
affects the following:
   -- All restaurants and retail food facilities in Beverly Hills shall be prohibited from serving food for consumption on premises including through a self-serve, unwrapped buffet;
   -- All movie theaters and live performance venues shall be closed to the public;
   -- All gyms and fitness centers shall be closed to the public;
   -- All businesses providing physical health and beauty services, including spas, hair salons, massage parlors, and nail salons, that do not provide medical care or services that supplement medical care as directed by medical professionals will be closed to the public except for the purpose of retail sales;
   -- All elective medical and surgical procedures, including all elective dental procedures are prohibited.
The order is in effect until the city's local emergency is canceled.
The city also placed a moratorium on evictions for non-payment of rent by tenants and businesses impacted by coronavirus.
The temporary suspension of utility shutoffs and certain parking regulations was also put into effect.
Mayor John Mirisch announced he would be leading the creation of a COVID-19 Kindness Task Force to assist seniors and the most vulnerable in the city.
"This is an opportunity for Beverly Hills to do what we do best, care for one another," Mirisch said.
In an effort to promote and protect public health, Beverly Hills City Hall is closed to the public until further notice and will operate as a Virtual City Hall, according to City Manager George Chavez.
"With the ongoing health concerns presented by the novel coronavirus, we believe it is in the best interest of the community and our employees to shift our services to online and by phone,'' Chavez said. ``I continue to work closely with the mayor and City Council who are all deeply committed to the health and safety of our community."
City personnel will continue to work from City Hall but public counter services will not be available. Many city services may be accessed at www.beverlyhills.org or by calling 310-285-1000. City staff will be available by phone and email to continue to serve the public.