Azusa man who was barred from owning gun found with cache of weapons in home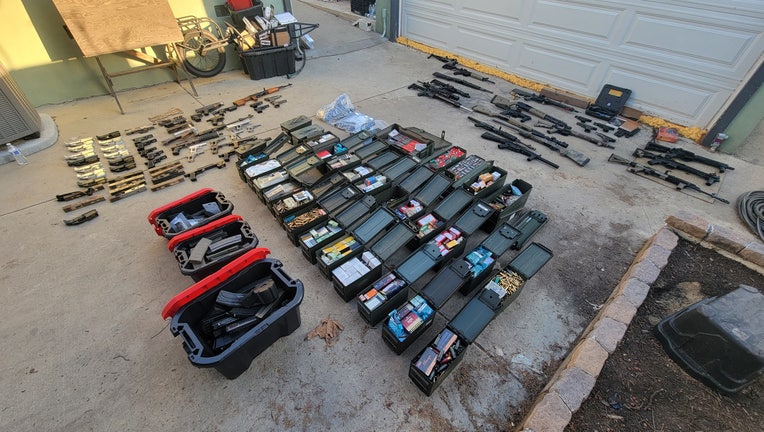 article
AZUSA, Calif. - A man who was barred from owning weapons, was arrested with a large cache of illegal firearms, including assault weapons, high-capacity magazines, and tens of thousands of rounds of ammunition, the California Attorney General's Office announced Tuesday. 
The suspect, who was not identified, was arrested on January 25 and charged with multiple felonies, including unlawful possession of a firearm, unlawful possession of an assault weapon, intentional conversion of a firearm into a machine gun, possession of a machine gun, unlawful assault weapon activity, unlawful manufacture or possession of a short-barreled rifle or shotgun, unlawful possession of ammunition, and possession of a silencer. 
According to Attorney General Rob Bonta, the suspect was legally barred from owning weapons due to a mental-health based prohibition and was listed in the Armed Prohibited Persons System (APPS) database as owning one firearm.
Agents from the California Department of Justice contacted the suspect at their home in Azusa to retrieve his outstanding firearm. They were denied access into the home and had to obtain a search warrant. After entering the home, agents found four machine guns, seven assault weapons, a short-barreled rifle, four suppressors/silencers, six handguns, one shotgun, four rifles, 54 lower receivers/frames, 41 standard capacity magazines, 87 large-capacity magazines, and approximately 35,000 rounds of miscellaneous ammunition.
"This arrest demonstrates exactly why the Armed and Prohibited Persons system is vital for the safety of our communities," Bonta said. "In our efforts to retrieve just one gun from a prohibited individual, we found dozens of illegal weapons and thousands of rounds of ammunition."