Resurfaced clips show Ashton Kutcher making inappropriate comments about underage Mila Kunis, Hilary Duff
LOS ANGELES - Ashton Kutcher is facing more backlash after controversial clips from the past have resurfaced online, showing him making questionable comments about underage celebrities, including his wife Mila Kunis.
In a clip from Kutcher's reality TV show "Punk'd" in 2003, Kutcher shares his opinion waiting for fellow celebrities Hilary Duff and Mary Kate and Ashley Olsen to reach the age of 18. 
"And she's one of those girls that we're all waiting for to turn 18. Along with the Olsen twins." 
At the time of the video, Duff was 15.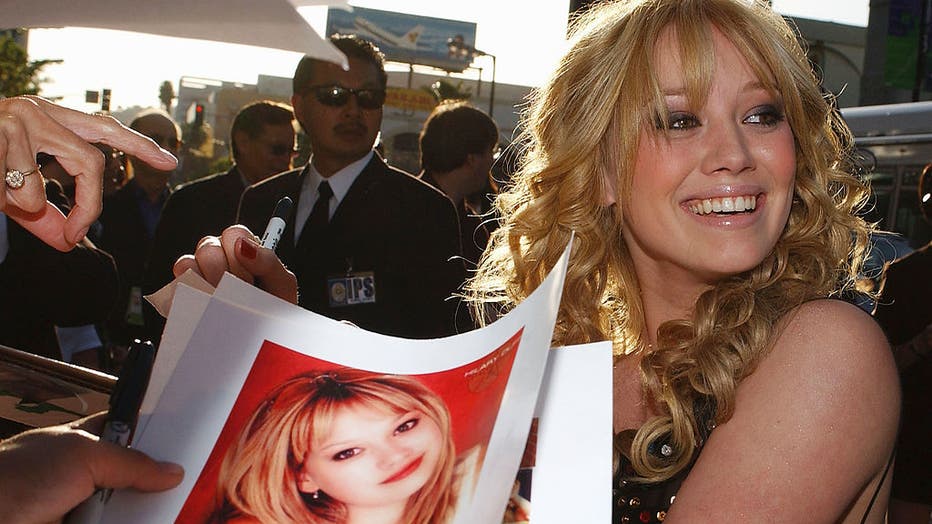 Actress Hilary Duff attends the premiere of The Lizzie McGuire Movie on April 26, 2003 in Hollywood, California. (Photo by Lucy Nicholson/Getty Images)
Kutcher listed reasons why he wanted to date Duff, including her accomplishments appearing as the lead in the hit series "Lizzie McGuire," having an album out, and starring in the then-upcoming movie "Cheaper By the Dozen."
Since it was posted, the clip has been viewed more than 21 million times.
Another resurfaced clip, this time from 2002, shows Kutcher on "The Rosie O'Donnell Show" making inappropriate comments about "That '70s show" co-star and love interest Mila Kunis, whom he married in 2015. 
The series first aired in 1998, when Kutcher was 19 and Kunis was 14. 
In the video, the two talk about a bet Kutcher had with fellow actor Danny Masterson over French-kissing Kunis. Kutcher joked about the age difference.
RELATED: 'That '70s Show' actor Danny Masterson sentenced for rapes of 2 women
"Danny goes to him and goes, 'Dude, I'll give you $10 if you French kiss her,'" Kunis recalled.
"And I'm like thinking, 'This is slightly illegal, right,'" Kutcher said.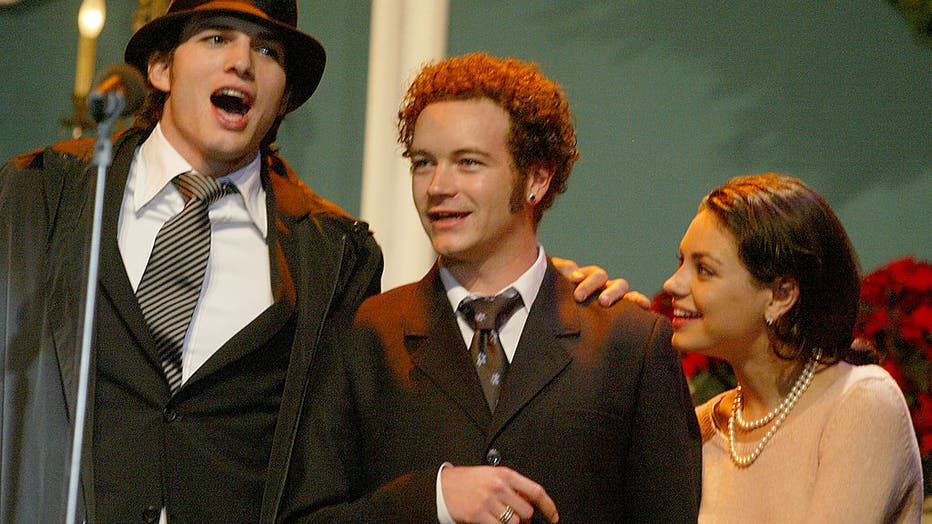 (L-R) Actors Ashton Kutcher, Danny Masterson and Mila Kunis perform on stage at the Church of Scientology's 11th Annual Christmas Stories Fundraiser at the Church of Scientology Celebrity Centre, December 6, 2003 in Los Angeles, California. (Photo by
Yet another resurfaced clip captured Kunis sitting on Kutcher's lap as a teenager in a promo video for the sitcom.
"And it feels good! And I like it a lot!" he said while laughing and grabbing Kunis.
"14, she was even hotter [then], if I'm allowed to say that," he said.
The resurfaced clips were originally shared by Chrissie Carnell Bixler, one of three women to accuse Danny Masterson of rape.
Masterson was sentenced to 30 years to life in prison last week for raping two women in his Hollywood Hills home in 2003.
RELATED: Ashton Kutcher, Mila Kunis wrote to judge in support of 'That '70s Show' co-star Danny Masterson
Following Masterson's sentencing, Kutcher and Kunis came under fire for letters they wrote to the judge asking for leniency for Masterson.
"As a friend, Danny has been nothing but a positive influence on me," Kutcher wrote. "He's an extraordinarily honest and intentional human being."
"I attribute not falling into the typical Hollywood life of drugs directly to Danny," he added.
The actor also said he doesn't believe that Masterson "is an ongoing harm to society."
In a similar vein, Kunis described Masterson as an "amazing friend, confidant, and, above all, an outstanding older brother figure to me."
RELATED: Ashton Kutcher, Mila Kunis apologize for 'pain' their Danny Masterson letters caused
"His caring nature and ability to offer guidance have been instrumental in my growth both personally and professionally," she added.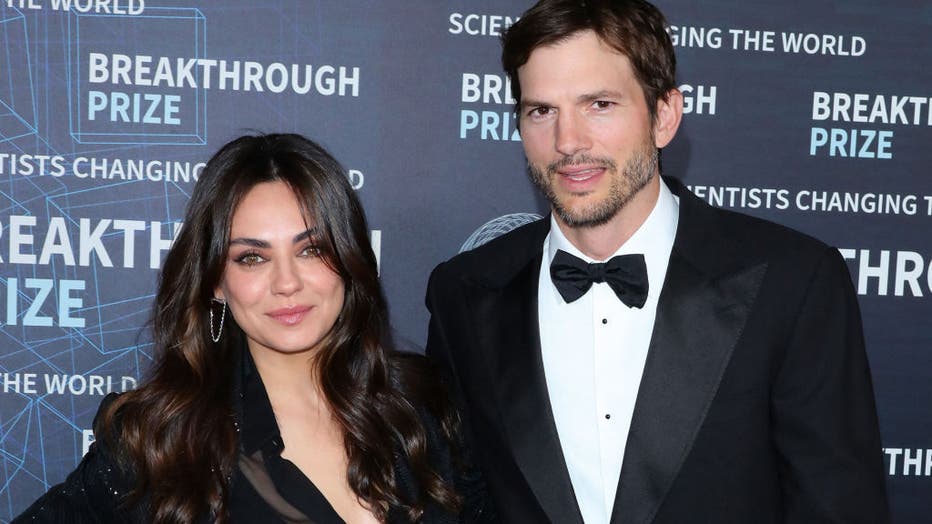 US actor Ashton Kutcher and his wife US actress Mila Kunis arrive for the ninth Breakthrough Prize awards ceremony at the Academy Museum of Motion Pictures in Los Angeles, April 15, 2023. (Photo by Juan Pablo Rico / AFP) 
Kutcher and Kunis over the weekend addressed the backlash to the letters in a video posted to Instagram.
"We are aware of the pain that has been caused by the character letters that we wrote on behalf of Danny Masterson," Kutcher said, adding that they did not intend to "undermine the testimony of the victims or re-traumatize them in any way."
"And we're sorry if that has been the case," he continued.
"We support victims. We have done this historically through our work and will continue to do so in the future," Kunis said.
"Our heart goes out to every single person who has ever been a victim of sexual assault, sexual abuse or rape," she added.
Kutcher co-founded Thorn, an organization that works to stop child sex trafficking and abuse, with ex-wife Demi Moore in 2012. According to its website, Thorn is described as "an international anti-human trafficking organization that works to address the sexual exploitation of children."